The Lost Art of Reading
50 years ago, the access to information students have now would be mind-boggling. Resources such as online tutors, instant search engine technology, AI conversations, and expansive online libraries with hundreds of ebook titles would have been to die for during the school year. Could these resources be the reason beloved libraries across the country are dwindling in attendance?
Or can people not find the energy or put in the time to read physical books, resorting to social media, television, and video games to entertain themselves in their spare time?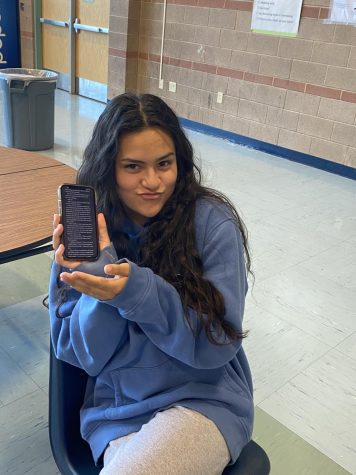 The average American in 2009 would visit their public library around 5.4 times per year. A decade later, that number dropped 28 percent, turning into 3.9 visits per year in 2019. The Las Vegas Valley is home to 32 library branches that are a part of 3 library districts: Las Vegas, North Las Vegas, and Henderson. Library card holders have access to all of the district's selection of books, so there is nothing missing from each collection. With all that is available, why have Las Vegas citizens decreased their attendance?
Sophomore at Shadow Ridge High School, McKenzie Sanai, believes it is due to the lack of accessibility that comes with libraries. 
"You can find everything online on your phone or computer from your house," Sanai explained. "There's no reason to leave the comfort of your home if you have it at your fingertips."
Information, however, is not the only thing that can be found at the library. There are DVDs, music, and a large selection of entertaining books that can be accessed at the library. New books are added each week as well as old books sold for highly discounted prices. Is the library a drive just too far to make compared to picking up a phone and Googling?
"
I have all my books at home, there is no need to go to the library.
— Alexis Gonzalez
Sophomore Jonah Escoto believes that people overlook libraries due to the internet's ease. 
"I think libraries aren't utilized as much as they once were because of how digital today's world is. Back then, people would have to go to the library if they wanted access to information and knowledge, but now they can find anything online in the comfort of their own homes," Escoto explained. "Instead of spending hours at the library researching and studying, people are now able to access information in a fraction of the time thanks to the internet."
Sophomore Alexis Gonzalez never goes to the library thanks to the internet's wide variety of e-books. Her entertainment needs are also met by technology, not just her informational needs. 
Gonzalez stated, "I find so many good e-books online, so why would I waste my gas money driving to the library just to find the same books?"