Chace Juden breaks the school's pole vault record
Shadow Ridge's track team has amazing pole vaulters, but one of them stands out more than the others. Junior Chace Juden broke the pole vault school record this season, at the first team meet at Arbor View High School. It was his second competition of the season, since he participates in invites, where the best four people per event and gender are invited to compete. Juden is a homeschooled student, who comes to Shadow for sports. It's been his first year being in the track team but he has been pole vaulting his whole life. He has 5 younger siblings who pole vault too, and his brother Luke Juden already jumps 10'6" as a freshman. 
"I have been doing track for a little over a year and originally decided to do pole vaulting to beat someone that would become an unexpected but welcomed friend in the future," tells Juden. 
Pole vault is a very competitive sport, but athletes are always willing to help each other, giving them advice or letting them use their poles. Coaches help athletes from other schools to get their steps and their grip.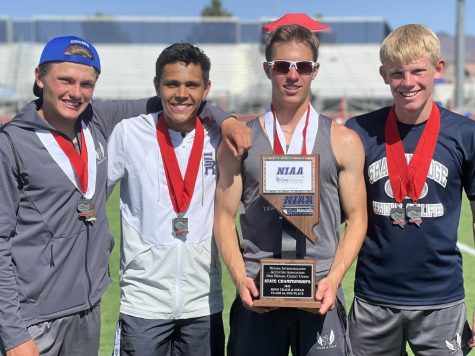 For most of the vaulters, their main goal is to clear a higher height, but the form is the main thing to improve. If they have a good sprint, if their hands are on time and if their swing is good, then they will be able to jump higher. 
"What I most dislike in pole vaulting is the many people that say that they are just going to jump higher and name a specific height. A lot of the time in vaulting jumping high only proceeds practicing hard and training," says Juden. 
After clearing a new PR at the beginning of the season, Juden's goals changed, he already accomplished what he wanted to do. 
Juden explains, "My goal at the beginning of the year was to beat the school record and jump 13' 8" but after beating it on the second meet of the season my goals shifted. I have now set my sights on jumping in college (specifically BYU)." 
Pole vaulting is a very demanding sport, athletes need to be good at sprinting, while holding a pole. They need to be able to run fast while holding a 10 ft to 17 ft tall pole, but also need to have a lot of upper body strength and flexibility.  
"I train for pole vaulting in a variety of different ways. One is that I am a part of Titan Athletes run by the Smith coaches and pole vault 2 times weekly with them. I also cross train though playing several different sports," explains Juden. 
Juden is a very hard worker, who doesn't hesitate to help his teammates to get better, but always staying very humble. That made him one of Shadow's track and field team's captains. 
Juden tells, "The thing I most like about pole vaulting is the opportunity to become better at my own speed. The harder I work the better I become." 
One thing that Juden's friends would highlight about him during meets is how prepared he is, and not only to jump. Juden always has multiple blankets for afternoon meets who usually end up around 9pm, but also tents to protect himself from the sun during day meets. He also carries a bunch of snacks and food, which makes everyone laugh  and calms down the stress. He gladly shares all of it with his friends, who truly appreciate it. 
"When it gets hard my biggest motivation is the food card and private eating place that athletes get in college," laughs Juden. 
Juden is a true inspiration for his teammates, who always look after him and cheer him up during competitions. When he broke the school record at Arbor View, the joy and pride was intense. 
"When I broke the record at Arbor (13' 8") I was super excited and everyone was so happy for me. It was a great moment that was a highlight of the season," shares Juden.