Charitable Thrift Stores in Las Vegas
As inflation rises across the United States, teenagers in every high school, not just beloved Shadow Ridge, are turning to thrift stores to stay stylish without losing too much money. These thrift stores all across the valley may look unsuspecting or not up to the normal teenager fashion trends, but they are not to be underestimated. One man's trash surely could become another man's treasure.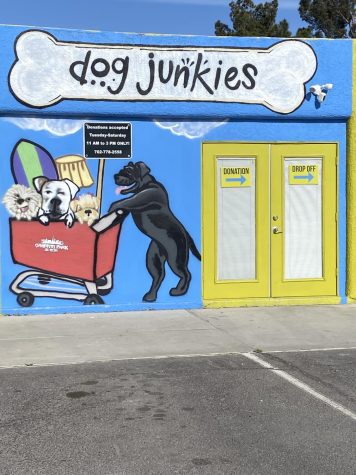 Many common thrift stores include Goodwill and Savers, although there are so many others to choose from. These stores are often self run or are run by a charitable organization that uses the funds received from donated items to go towards helping those in their communities. Dog Junkies is one of said stores with an interesting background. 
Ran by "A Home 4 Spot", Dog Junkies funds a foster care system for stray dogs. Founded in 2009 by a Las Vegas resident after saving two dogs in Mexico, it is a fairly small operation that has managed to save more than 6,500 dogs from being euthanized. They have also raised more than $1,000,500 for medical treatment for dogs across the valley. 
"I was looking for cheap new clothes for the start of the school year last year and I found this tiny thrift store," sophomore Preslee Lafreniere, thrift store lover, stated. "It was a cute little place but I found a cute little sweatshirt and button up shirt that fit into my style perfectly. I think their mission is really cool too."
Assistance League Las Vegas is another community lifting thrift shop and non-profit organization. Their Las Vegas chapter began 40 years ago as the 63rd chapter of the National Assistance League to help children in need. None of its 400 staff members are paid, each volunteering regularly to contribute to this great cause. It has also been named the Best of Las Vegas thrift shop from 2017-2022 by the Las Vegas Review Journal and supports many philanthropic programs such as Operation School Bell that helps students shop for new clothes. 
"Their store is so big they always have what I need," Junior Ali Rizo explained.
"
I love thrift stores!
— Ali Rizo
Deseret Industries has a similar goal to the Assistance League to help buoy community members trying to get on their feet. Their thrift shop is partnered with the Latter-Day Saint Humanitarian Center to teach skills to less fortunate workers. They have also partnered with community colleges to provide education to those in need. In 2022, they recycled 73,019,376 items back to the communities across the country. 
"I have never been to Deseret Industries, but my mom buys old movies and books there for like a dollar," sophomore Noel Caldera stated. "Seems like a pretty good deal to me."