Michael Brown and Austin Lynn Spotlight
Senior Austin Lynn has been playing baseball for 14 years and is a very talented and dedicated ball player. He says his favorite position is catcher and he is an exceptional hitter at the plate. Lynn is committed to Emporia State University which is a DII college in Emporia, Kansas.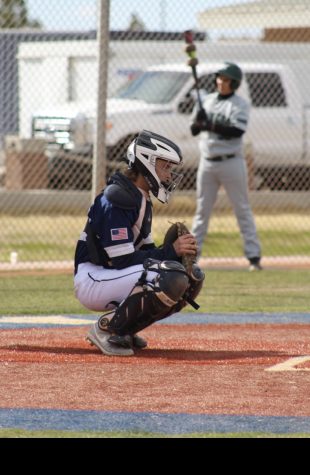 Lynn has big goals in the future, he states, ¨My goals are to win another state championship and continue my baseball career into college. After college I plan to play baseball at the highest level but if not I want to be a financial planner.
Lynn says his dreams to play in the big leagues is what keeps him motivated and dedicated.
To do so, Lynn says he needs to improve his mental toughness, strength and mobility on and off the field if he wants to keep going to higher levels.
Senior Michael Brown has been playing ball since he was 3. He says his favorite position is definitely shortstop. The Yankees are his favorite baseball team and he has dreamed about playing with them. Brown is committed to Hofstra University which is a Dl school in New York.
"
¨I am very dedicated.¨
— Michael Brown
Brown also has big plans for his future, stating, ¨My goals are to win a second state championship and better myself as a baseball player to continue playing baseball at the next level in college and the dream is professional baseball.¨
Brown says to help him go to the next level, he wants to get stronger and faster and work on hitting with a little more power as his game improves. 
Brown states, "What keeps me motivated is to keep playing. My lifelong dream of playing baseball for the Yankees so I want to make that dream come true. I also want to make my family proud and give back to them everything that they have sacrificed for me and pay it back to them.¨
Lynn and Brown work very hard on and off the field; other ball players find their work ethic inspiring and try to be like them. 
Teammate of Brown and Lynn, Junior, Anthony Carisco states, "Michael and Austin most definitely inspire me to play ball and they probably inspire many others as well. The way they play the game is so smooth and just inspiring to watch. They work hard and push through many challenges in their way. Their love and dedication for the game is unmatched and amazing.¨