Our Biggest Herd of Mustangs
Shadow Ridge's Track Team is one the biggest sports teams at Shadow. Sometimes having a team as big as this can make it hard to feel the closeness that other teams have, but that does not seem to apply to Shadow's Track Team. 
Freshman Allison Reynolds loves having such a big team. She explains that it is actually a lot of fun. Reynolds states that she has been on a lot of other sports teams but never one this big. There is always someone new to meet and everyone is super supportive of each other. Reynolds says that meets are definitely crowded.  
"Our team takes up a huge majority of the bleachers and when we warm up you can tell the other teams are super surprised by the size of our team," Reynolds explained.
Brynlee Stewart, a freshman at Shadow Ridge, also points out that there are a lot of new people to meet. She states that there are so many different and awesome people.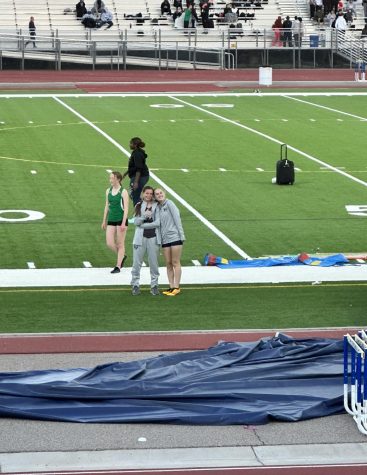 Stewart explains that the meets are not that bad, she says they're fun and exciting. 
"I play soccer, so it's a different dynamic because on a soccer team you really know all your teammates," Stewart states.
Freshman Jane Campbell does not enjoy the size of the track team. Campbell explains that the size makes it really hard to fix the smaller things, everyone can't get the same attention. The meets do take quite a bit of time too. 
"On other teams the coaches usually focus on all teammates equally. But in track there are only a few students that they focus on," Campbell states.
Although Campbell does not like the size of the track team she says that her experience on the team has been great. The people are super nice and supportive of each other.
She states that she will definitely be doing it next year.
Reynolds states that she also loved it. This year was her first year doing track. She does pole vault and the 400 meter dash. She encourages anyone thinking about doing track to try it. 
"The shadow track team has a great environment that not many teams have. We are hard working but also have tons of fun," Reynolds explains. "Everyone is super supportive of each other and the energy is contagious. I think we owe a great deal of this to our great coaches."