Preparing for Next School Year with Kamalani Aikau
With every new school year, there is a new student body to help keep the school organized and in good shape. The elections have already occurred, and the 2023 – 2024 Student Body President has been chosen as Kamalani Aikau. 
As she has been a student council member for a few years, Aikau knows what makes a stable and functioning community, planning to advance how things are completed one step at a time. She knows all the job entails and has prepared herself to be overloaded with work and planning different events, but she does not see this as an obstacle that cannot be achieved. 
"I wanted to be president this year because I do not like how certain things are done, and I would love to be someone to help change things that are more effective and easy on others. Life as the Student Body President will look a little chaotic with two jobs. Nevertheless, I also think that it will be fun." Aikau continues, "To be Student Body President means you are the face of the school to other schools. You represent your school when you attend meetings or different school events, so my days will be full of meetings and no personal time." 
"
Kama is a born leader. We have so many great kids on our executive board next year, and Kama will do an excellent job leading them. She will listen to many perspectives and hear people out, which is an excellent quality for a president to have!"
— Rebecca Coyle - Student Council Advisor
Aikau has had previous positions and experiences in student council that have appropriately prepared her for the next phase as Student Body President and the future projects she decides to embark upon. With her time in office, Aikau plans on making her mark on the school by creating more opportunities for students' opinions to be heard and building better communication and organization skills with her colleagues.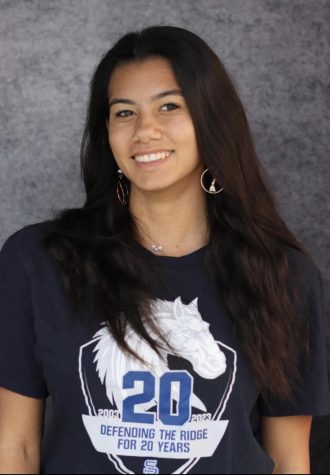 "I do have plans to make a suggestion box for students to put their suggestions in, whether it be songs, spirit days, lunch activities, or after-school activities. Specific goals that I have within the class council will include organization and efficiency. I do not want plans to go down the drain; I want to have all of these plans and ideas go through and be put together," elaborates Aikau. 
On top of all these goals, Aikau does look forward to some of the projects she will be a part of planning, like the different assemblies and all the many events that will also be happening next school year. Aikau has more than prepared herself for the job, set the highest standards for herself, and raised the bar for all that can be achieved in important positions. 
The student council advisor at Shadow, Rebecca Coyle, states, "One thing I have always appreciated about Kama is her open attitude and friendliness towards others. She was among the first to welcome me to Shadow Ridge, and I have seen her do the same with our underclassmen. Though I have only known her for a year, Kama has consistently been on the council. I am always happy to see her and love hearing her ideas, and I am excited to watch her lead next year!"