Lucas Halvorson: Aspiring Actor
Students at Shadow Ridge can have stressful lives, some more than others. Sophomore Lucas Halvorson knows all too much about stress. Being in 4 shows at once plus homework was a very difficult time for him.
"Being in four shows at once was very stressful. I had to memorize so many lines and so much choreography, and that was only for two shows. I had more lines on top of that and music I had to memorize plus blocking I needed to know for every single show. It's also really hard when some of the shows I do are for a company outside of school, Drama Kids. It was really hard for transport sometimes, especially when I had back to back rehearsals.  Two of the shows I had major roles in. Going from being Pugsley in Addams Family to being Crutchie in Newsies was very challenging. Both roles were sort of physically demanding; I had to go from being essentially a human rag doll to pretending that one of my legs didn't work and also being dragged off stage aggressively. I gained many injuries and bruises. So being in four shows also wasn't good for me physically, but hey, I'm alive. I'm surprised I didn't have a psychotic break, but I had people to help me get through it."
For a lot of people, theatre is an escape from reality. It's a way to be someone else for a short while, without having to actually change themselves in reality. People can range from the richest of the richest to the poorest of the poorest, to children and to even elders.
"Theatre gives me something to do," he says. "I don't like to be stuck at home 24/7 so theatre was my way to get out of the house, but there's much more to it than that. Theatre gave me a family outside of my own. I made many friends through Drama Kids and the theatre program at Shadow. My best friend, Madi, I met through Drama Kids, but I made a lot of my close friendships through Shadow. Addams Family made me become a lot closer to many people and a lot of the seniors, especially Myles Jones who played Gomez, Josie Gordon who played Wednesday, and Axel Reynolds who played Lurch. It's like I have this little family in the theatre and everyone is so supportive. In Newsies, I also got a lot closer with my friend Jared, who played Jack Kelly."
Even while Halvorson had all these shows, he stayed an A-B student. He was able to keep his grades up and excel in school. He also had his dad, who is the choir teacher here at Shadow. Being a student of a teacher can also be hard.
"A lot of my friends at this school, especially the ones in theatre, are scared of him. I don't understand why, and when they explain it doesn't make any more sense. It is nice though when I'm in a musical because when I'm at home I can get help from him if I'm confused since he is the choir teacher and is the music director for all the musicals. It's not as bad as some people think."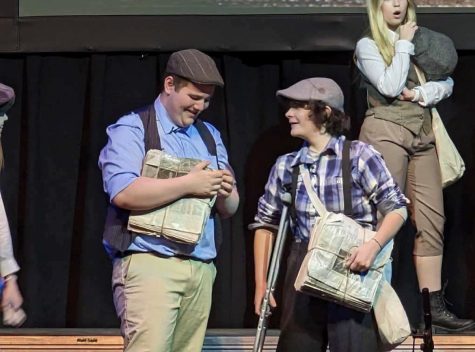 Being in theatre has given Halvorson a new sense of a community. It has helped him connect with many different people and make new friends.
"The people and the performances are by far my favorite. You make so many connections with your fellow actors on stage. It's also really fun to be on stage with people you have good chemistry with. Like with Jared, when we were on stage together there were several things we said and did that were definitely not in the script but they just added to the show in such a nice way. And during closing night of Addams Family, there were so many bits and little pieces of improv that just added to the show and made it so much more fun. I have made so many connections through theatre and it's just made my life better I think."
Halvorson is not only doing theatre at Shadow, He is also doing shows outside of school. He is in a different program called "Drama Kids."
"Drama Kids is a program for kids to learn how to act and put their skills on to a stage. Their main focus, and their slogan, is that they make good actors not shows. They try to make good shows, but they are more focused on growing an actor's talent than the show. They offer an acting academy class and in addition to that, you can take a "two class" where they do musicals instead of plays."