Bridger's Getting Birdies
Sophomore, Bridger Johnson has been playing golf almost everyday for his entire life. The sport has always been very intriguing and enjoyable for him to participate in. Johnson first became interested in playing from watching his father and grandfather.
"My grandpa and dad inspired me to start playing golf," he says. "I think I really wanted to start playing after seeing how much dedication they put into the sport."
Since Johnson has played since he was a little kid, he has accomplished some major achievements. No matter how much success he has had, it will not stop him from continuing to play, grow, and strive. He often participates in tournaments outside of school as well as playing here at Shadow. 
He states, "The biggest goal I have accomplished is winning a golf event and getting $650!"
In any free time given, Johnson is practicing and improving. He always encourages friends and teammates for them to do their best as well as leading by example when working hard. 
"Playing golf with Bridger is always so fun and it is insane to see how much focus he has," says close friend of Johnson, Cole Stucki, sophomore. "Whenever he goes up to swing he gets so focused. It is actually crazy to watch."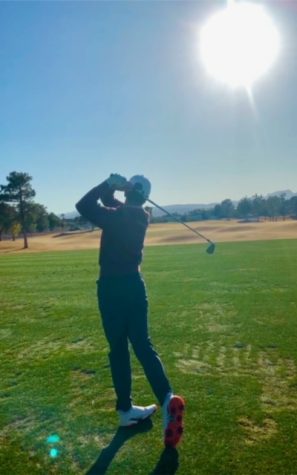 His attention to golf also helps as he plays for the school and can continue to help encourage the team and himself to win the state title this year. From coming in second place last year, Johnson believes there is great potential for them to come back and take the trophy. The work ethic put into this sport is very great and never fails to come from him.
Johnson said, "I love the mental aspect of golf. Really anyone can be good at golf but it is the mental aspect that will make a real champion."
Knowing how to balance all of the different techniques and skills needed in golf makes Johnson stand apart from the rest. It is important to stay focused on the game and he gives it his all.
He says, "When I play golf I try to stay in and think about the moment. This gets me into a zone helping me play my best."
Johnson has done nothing short but excelled in his golf expectations. He will continue to work and succeed in this sport and make some great achievements. It will be exciting to see all that he can accomplish in his personal golf playing and at the Ridge as well.