Ty Silva: A Future So Bright It's Blinding
Ever since he was little, senior at Shadow Ridge, Ty Silva, has been influenced by the sport of baseball. Playing for numerous club and school teams growing up, baseball has taken Silva to many places across Nevada and the United States. It has even taken him to the 4A Nevada State Championships in 2022 where he helped his team and school take home the victory twice. With both of his parents having experience in baseball and softball, he has been supported every step of the way. 
As a kid, Silva his pursuit of improvement took him everywhere it could.
"
I'm going to keep playing as long as I possibly can."
— Ty Silva
 "The most notable places I have played are in Cooperstown, New York when I was 12, Ohio for the entire summer of 2022, and Arizona which is one of the most popular areas for competitive club baseball," said Silva.
The next step in Silva's baseball career is one every high school ball player would love- playing for the University of Southern California in Los Angeles. Although it didn't start out looking like that would be the place Silva's baseball career would go early in his high school career, it's the place he ended up.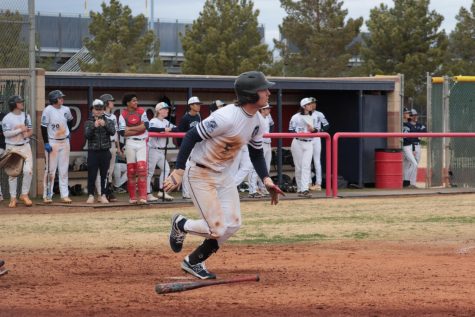 "My Sophomore year I committed to University of Washington and after being committed there for over a year the coaching staff left which led me to re-open my recruiting process where I got looks from schools including USC," Silva stated. "After USC expressed interest I went to a prospect camp and played well and I learned about my scholarship offer."
Although this will be a fun and exciting experience for Silva, there are still things he is going to miss about good old Shadow Ridge. After all, sunny beaches and a beautiful college campus have nothing on the Ridge. The culture of this wonderful school has each student willing to support each other in every way. 
"I'm going to miss going to sporting events to support my friends," he explained. 
Not only will Silva miss sports at Shadow, but his teammates will miss him too. Sophomore Alexander Reese expressed how much he looks up to Silva and how he led the team to victory in a way that was inspiring. 
"I could tell that Ty had a kind of confidence that people were able to feed off of, " Reese stated. "Although I didn't play with him, I could just see his leadership abilities and want to be able to help people and inspire him like he inspired me. I hope he has fun in California."