545 Children Missing at the U.S. Border
The Trump administration input the zero-tolerance policy in 2018 that prosecutes all people who come into the country illegally. This has resulted in family separation at the border although it reportedly began happening a year prior to the policy being announced, under a pilot program. 
"After all, it isn't just about making illegal border crossers comfortable in their surroundings while they await their inordinately protracted immigration hearings. It is — or at least should be — a matter of establishing mechanisms that deter other families from making the journey. Each day, each week, and each month that former neighbors in the countries of origin see that family members haven't been repatriated, and are in fact faring well here, signals to them that perhaps the benefits do outweigh the risks; especially if, after having been released, they can still opt out by absconding once they make the cost-benefit analysis that hanging around is no longer a viable option and relief from an order of removal has become remote," Dan Cadman states. 
The Trump administration has since stopped separating families at the border but there are now 545 children reported missing from 2017-2018. This was caused by deporting the parents without first securing records of where they were deported or contact information. They are now trying to track down all of the parents in order to reunite the children with their parents. 
"Unfortunately, there's an enormous amount of work yet to be done to find these families — work that will be difficult, but we are committed to doing," Lee Gelernt, an ACLU attorney, said in an interview with The Washington Post.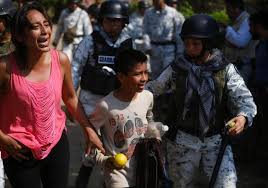 The ACLU Immigrants rights program has fought to challenge the constitutional abuses that immigrants face. They focus on the expansion of civil rights and liberties, and combat discrimination against immigrants. 
"It is critical to find out as much as possible about who was responsible for this horrific practice while not losing sight of the fact that hundreds of families have still not been found and remain separated," Lee Gelernt, the deputy director of the ACLU's Immigrants' Rights Project, told NBC News, adding: "There is so much more work to be done to find these families."