Savana Chalmers Shoots For The Stars
Savana Chalmers, Senior at Shadow Ridge, recently broke Shadow Ridge's school record in the triple jump which made her number one in the state of Nevada. Chalmers is a star athlete and has been running and excelling at track for a long time.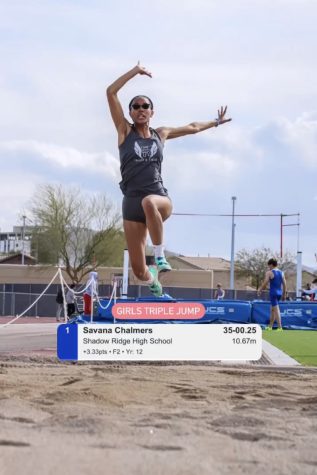 "I've been running track for about 5 years, but I took the COVID year off because my parents couldn't give me a ride," she says.
Track is very important to her and takes up a lot of space in her life, but she wouldn't have it any other way. 
"I like that track is a community. Everyone cheers you on during your race or events no matter who you are," says Chalmers. "It's a big mood booster."
Her love for track only grew as her successes did, and she never imagined her accomplishments would be possible.
"For starters, I broke our school record in triple jump with a 37-5 which also made me 1st in our state. Another accomplishment is that I started actually winning in my events," she says.
"
She works so hard during her season and it's very admirable."
— Mikayla Maluyo
Chalmers has also grown as a person a lot throughout her track career. It has helped her to come out of her shell, meet new people, and find her self confidence.
"My track career has changed the way I interact with people. It helped me start opening up to everyone around me which I have been struggling with for as long as I can remember. I also don't get as nervous as I used to."
Chalmers friends are very proud of her and amazed by how far she has come in track and in life. 
"I am so proud of her! She is an amazing jumper and her season so far has been incredible," says Mikayla Maluyo, senior and close friend of Chalmers.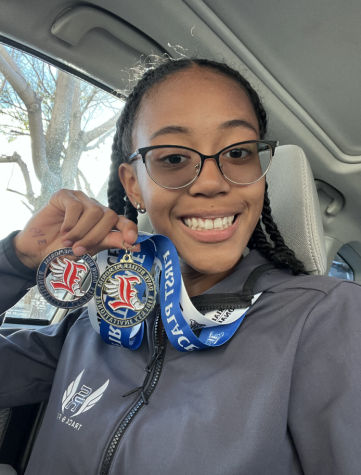 "Nobody is doing it like Savana, Savana does this so flawlessly, she is going places," says Harold Roberts, senior and another close friend of Chalmers.
Chalmers is very grateful for her teammates and couldn't have done it without them. They've helped her improve and grow as an athlete and as an individual.
"Everyone sort of inspires me in a way," she explains. "I watch what they do, both right and wrong, and learn from that to make myself better. I use everything as a lesson for myself."