Oakland A´s Coming to Vegas?
Las Vegas has recently added the Vegas Raiders (football team) and Vegas Golden Knights (hockey team). The next sport they are hoping to add is baseball to the list of professional sports. After being denied a new stadium in Oakland, the Athletics are eyeing the city of lost wages. There are lots of baseball fans in Vegas who are very excited about this news.
"
¨I am very anxious and excited for them to come.¨
— Alex Reese
Sophomore Drew Torres who plays baseball for Shadow Ridge states, ¨Personally Im not the biggest fan of the A's but I am a big fan of baseball and I think it would be a nice addition to Las Vegas. It would be nice to see the Dodgers come and play them especially because they´re my favorite team.¨
The Oakland A's organization has been around since 1901 and they are originally from Philadelphia. They moved to Oakland in 1968 and have been there since and they are really looking forward to changing towns.
Freshman Henry Horne says, ¨I think that it's going to be sick to see the Oakland A's move to Vegas considering their triple A team is here. I am a Yankees fan so if the A's and Yankees play each other in Vegas I would definitely come out and watch.¨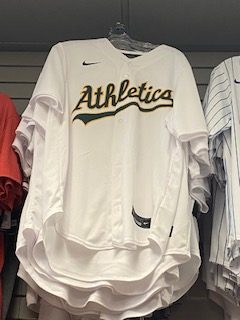 The Aviators used to be known as The Las Vegas 51´s and were founded in 1983 and have been in Vegas ever since. They are the triple A team that is affiliated with the Oakland A's which made the A's more convinced to move.¨
Freshman Kyson Rollo quotes, "It's going to be real cool to have a major league team come to Vegas. They have been having a hard time with attendance and not many people show up. I think the solution was definitely moving to Vegas and attracting a larger audience.¨
One major problem is the A's attendance is very low. According to athletic.com, The A's are averaging 8,789 with a stadium that holds 56,000 people The lowest attendance there was 2,630. Bringing the A's to Vegas will most definitely fix the attendance problem.
Sophomore, Alex Reese shares, ¨It will be awesome that they are moving because I am a huge fan of the A's and they have a bright future and has had a good past with quite a bit of championship wins.¨
According to britannica.com the Oakland A's are a quality organization with 9 championship wins in the past and have appeared in the playoffs 29 times in their last 122 times. Their last playoff appearance in 2020, they hope to have future success here in Vegas.