Rockin' Class President
Former head of the sophomore class of Shadow Ridge, sophomore, Izzy Phelps, rocked her role as elected class president last year. Phelps had managed to capture the attention of the sophomore class in her election campaign, in promising to work hard and make Shadow Ridge both a welcoming and positive outlet for students.
Looking back at the initial campaign set out last year, Phelps explains, "It was really exciting, but nerve racking at the same time. When I first started running, I had to fill out campaign forms, make videos, and write essays; but I sort of knew what to expect, because my sister was in StuCo before I got to be."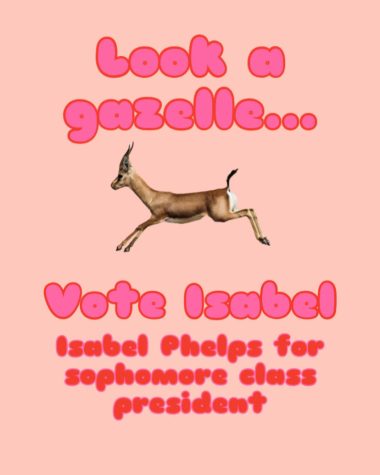 Having had such a large role in student council has allowed Phelps to help organize events hosted by Shadow, while also being able to incorporate ideas from students into projects, such as school dances, spirit week themes, and also school wide assemblies.
"I get to pretty much be the voice of the sophomore class, and I also get to be really involved in the future of StuCo at Shadow Ridge," Phelps says.
Being class president, Phelps got to be a major part in planning several school wide events; such as the Sadie Hawkins dance, spirit weeks, and attending and speaking at school assemblies. She had also brought student perspective into ideas and creativity behind the workings of school projects in the past year.
Reflecting on her time as sophomore class president, Phelps states, "Everyone in StuCo is supportive of each other; so, just knowing that I had an adviser, and a whole council there to help me and listen to any ideas, was amazing," Phelps continues. "I love being able to meet and communicate with new people constantly, and getting to be involved with all of the events that StuCo is a part of."
Taking her time in StuCo to the next level, returning after freshman year, Phelps' fondness and enjoyment of this class had brought her to take it up a notch, and go for head of the sophomore class. In this, Phelps got to extend her ideas toward the positive influence of this class.
Phelps claims, "I was a part of StuCo during freshman year, and I loved it. So, I wanted to be able to keep doing it, which is why I just thought, 'Why not go all the way and run for class president?'"