LeBron James, GOAT?
On February 7, 2023 history was made, LeBron James broke the all-time scoring record. The record was previously held by NBA legend Kareem Abdul-Jabbar at 38,387 points. James is 38 years old and has been playing in the NBA since 2003 when he was drafted to the Cleveland Cavaliers. The record was said to be unbreakable, it wasn't expected to be broken ever.

Video Courtesy of: NBA

James is without a doubt one of the greatest players and most controversial at the same time. Most can agree that James is a great basketball player but some rank him higher than others. The James vs Michael Jordan debate has been going on for many years now and there has not been a definite conclusion to this debate.

"MJ is the better player all time without a doubt, he has more rings while going 100% in the finals, and MJ has more MVPs. And I even think MJ is still a way better scorer even though James has more total points, James has played a lot longer than MJ, and MJ has a better points per game average," says sophomore Jack Blackwell.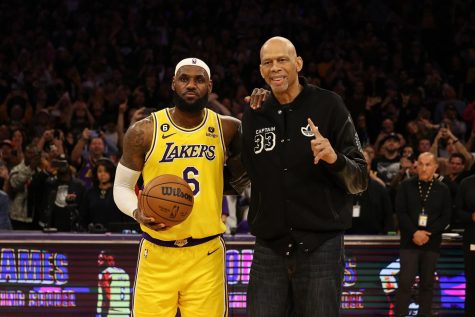 This accomplishment has greatly increased James's legacy. He is now the NBA all-time leading scorer, 4 time finals winner, 4 time finals MVP, 4 time NBA MVP, 19 time NBA All-Star, 13 time All-NBA first team, 6 time All Defensive Team, and a 2 time gold medal winner as well as many other achievements. 
James stated, "I am a winner and I just want to win," following one of the many Lakers losses they have had this season. James has made it clear that the only reason he continues to play is to increase his amount of rings. This goal James made was looking extremely promising when he joined the Lakers and formed a "Super Team," but injuries and other things have made the team go on a downward spiral. The Lakers this year are fighting for a spot in the play-in tournament. However, James is well known for his success in the playoffs and carrying his team to the finals.
According to CNN," It's a testament to not only his incredible abilities as a basketball player, but also his remarkable durability that James at times still looks as explosive in year 20 at the age of 38 as he did in his prime." 
The GOAT debate will never be settled but, the all-time scoring title certainly added to the arsenal of things to argue for James as the GOAT.