Sushi Wednesday!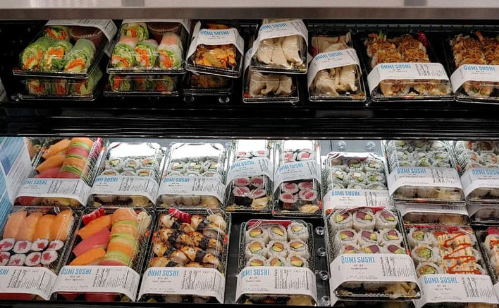 To some, Wednesday is just the middle of the week, although to Sprouts Farmers Market customers it is so much more. From as far back as 2018, Sprouts has had Sushi Wednesday. On this special day of the week customers can purchase Oumi Sushi Rolls for only $5.
Junior Emma Clement says, "I have been to Sprouts a few times and I really love their fruit section, they have a lot of different options and it always tastes so fresh. I really love sushi though so I would definitely try theirs."
Besides sushi, Sprouts specializes in a lot more deals, unique brands, and weekly specials. The farmers market opened up back in 2018 and now since then has opened 9 locations in Las Vegas alone. The closest location is 6150 N. Decatur Blvd., Las Vegas, NV 89130, this location is open everyday from 7 am-10pm. Many deals can be found on the Sprouts website under "Ways to Save." This shows customers what is on sale for that particular week. 
Sophomore Maya Garay says, "I prefer Whole Foods over Sprouts but after looking more into their website I might actually try going there, especially for the California Rolls."
Like most stores, Sprouts has options for online shopping and even a FAQ section for customers who have questions that are asked often. More sushi selection and other items can be purchased through just a few clicks then later picked up or delivered straight to their doorsteps. The Sprouts website has a special recipe tab that contains 16 different sections, including gluten and dairy free. Customers can even save recipes for later in a special folder. 
Junior Aliandra Rizo prefers Sprouts over many other stores, she feels like they have everything she needs. 
"I just love Sprouts. I feel like they have everything I need and most of it is in a good price range. My favorite thing from there has to be the Korean chicken, it comes pre-made but it always tastes so fresh. I bet the sushi is the same way."
Sprouts Farmers Market specializes in vitamins, protein, organic products, and of course, sushi. They have 11 different departments. In the deli, customers have a plethora of fresh meats or seafood from which to choose. After picking the base for their main dish, shoppers can make their way to the bakery section that contains different types of cookies, pies, muffins, and bagels that fit most restrictions or allergens.
Sushi Wednesday's have 4 or 5 different varieties, including, but not limited to, California Rolls, Crunchy California Rolls, Spicy Crab Rolls, Chili chicken rolls, Veggie Cucumber rolls, and Cream Cheese Rolls.
What is your favorite type of sushi?
Sorry, there was an error loading this poll.