Shadow Ridge Enters Playoffs Undefeated
Here at Shadow, Mustangs take sports very seriously. For Mustang Flag Football they've had their eyes on the prize from the very beginning. Through many days of endless dedication and facing tough opponents they went undefeated in the regular season. With high hopes to defend their state championship, the fight has just begun. 
Coach Matthew Nighswonger says, "Every opponent is our biggest competition. We are the defending state champs, everyone wants to be the one to take us down. We can't take it easy against anyone, or our season might be over."
For these girls playoffs is a show of how well they've competed together all season long.
"I think our team chemistry and bond is the strongest thing holding us together. We are a family and I would do anything for those girls," Says junior, Abby Covington. 
In sports it is often believed that defense wins games. For the Mustangs, the defense is unstoppable.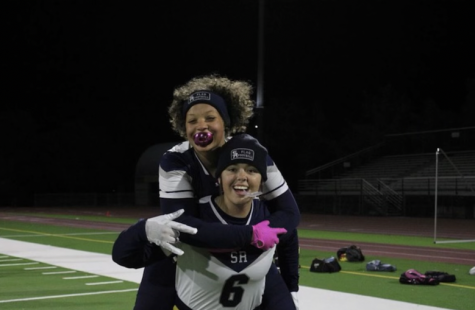 Senior Megan Reynolds says, "Defense has been great all year so I just hope I, and the other defenders, can keep it going and get some great stops."
Hard work and determination is a driving factor for Mustang Flag football, in preparation for playoffs they've been working hard to perfect their craft. 
"We are working on the fundamentals. The basics are what win games and in playoffs it is even more important to execute fundamentals correctly," says Nighswonger. 
 Offensively and defensively they have their goals all laid out. 
"Offensively, catching, blocking, making the correct read, and hustling," Nighswonger says. "Defensively, we need to make sure we switch in our coverages and pull flags when we are in the open field."
Mustangs have a great team dynamic and believe that is what will carry them through playoffs. 
"I think our ability to always keep fighting as a team no matter the odds will carry us," says Reynolds.
One blessing coming with the undefeated season is knowing that no opponent is out of reach.
"When playoffs start the only game that matters is the current game. I think it is good in the sense that our team has a lot of confidence. We know that we have beat everyone in our league twice and that we can do it again," says Coach Nighswonger. 
While flag football is a team sport, everyone has their individual goals.
For Covington, "I hope to be able to keep everyone hype on the field and motivated."
Shadow Ridge Flag Football has advanced to the state semi finals and will be playing Foothill High School at Shadow Ridge on Wednesday at 6 pm.
"
If you are thinking about trying out for flag, do it! It will probably be the best decision you have ever made."
— Abby Covington