Back to the 2000's
This year it is time to go back in time with the 2023 Sadies dance theme, "Back to the 2000's." So many of the older trends are coming back in style so it will be fun to see them all being brought back for the night.
Angelica Luff, Sophomore Class Vice President, said, "We choose the theme by having each of the sophomore class members offer a theme. We voted on one, and "Back to the 2000s" was a theme that hasn't really been in
troduced to Shadow and we thought this would be a good time to incorporate it and use some requested spirit days."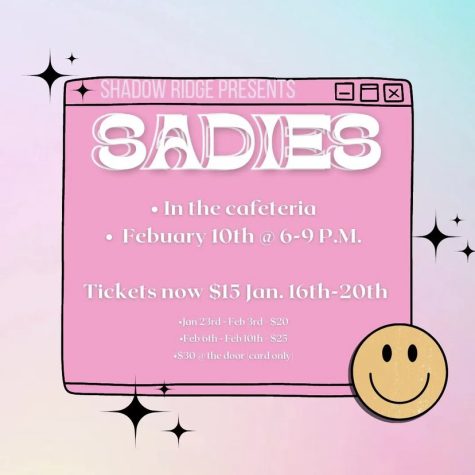 After the theme was decided, work began. Planning out all of the decorations and other details takes a lot of time. Many student council members took part in helping with all aspects of decorations and planning for the event.
"We prepare by having all three StuCo classes work on decor and advertisements for the dance," Luff says. "We also have super work days where we collectively work on our dance projects in a sanctioned building."
So much time and effort collectively is what brings the dance to life. After so long of not having "Sadie's" at Shadow Ridge it is exciting to see it brought back. This dance wasn't well attended in past years which is what stopped the event. Different themed dances were then put on instead of the typical Sadie Hawkins. 
Luff stated, "Lately, we realized that most of the students currently at Shadow haven't been able to attend a Sadie's dance, so we thought to give it a chance and everyone loved the idea of reintroducing it!"
It is so great to have the general idea of "Sadie's" back at The Ridge and it will be interesting to see what will happen in the later years. The dance is a wonderful opportunity for students to get together and have a great time. 
Kelsey Barney, sophomore, says, "I think that the dance is going to be super fun! I loved the spirit week and all the dress up days which is getting me hyped up. I can't wait to go with my friends."
Students can't wait to attend and those planning love to see others enjoy all their hard work.
Are you attending the Sadies Dance?
Sorry, there was an error loading this poll.
Luff said, "I'm excited to put on a dance that we planned and it's exhilarating to see something we put so much work into come alive. It's also something our school hasn't done in a while, so it is fun to bring it back."
"Back to the 2000's" is a great theme for a fun night here at Shadow. Weeks of planning and prepping will ensure a spectacular time at Sadie's for all Mustangs.