Welcome Back Mr. Mangelson!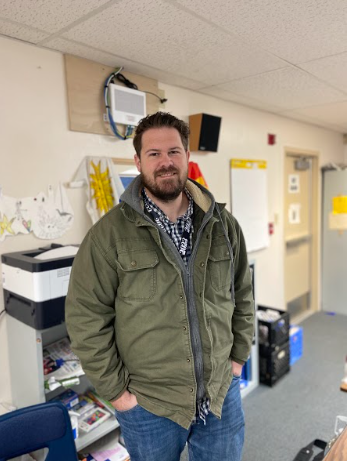 Mr. Mangelson is one of Shadow Ridge's amazing Spanish teachers who had been at Shadow Ridge last year and left during the summer of the 2021-2022 school year. He has now come back during the 2nd semester ready to teach the students who had been online the 1st semester.  Mr. Mangelson's passion for Spanish began in Uruguay, where he traveled after he graduated in 2006. He has lived in Las Vegas  for the majority of his life and even went to school at Shadow Ridge; he was actually in the second class to graduate from Shadow. Mr. Mangelson then studied at UNLV and earned Bachelor's degree in Spanish and a Master's in Hispanic Studies while teaching Spanish classes. He taught Spanish 113 and 114 while working at a law firm. Mr. Mangelson was first hired at Desert Oasis High School but when he saw a job opening at Shadow Ridge, he jumped at the opportunity to work at his alma mater.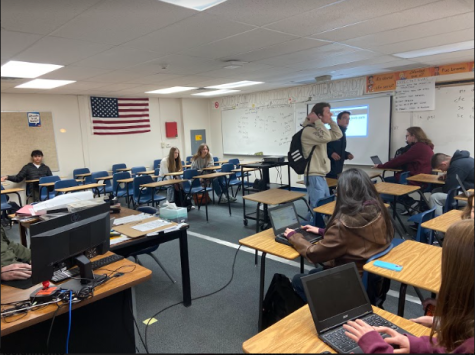 Sophomore, Kamea Kahaloa Matlock believes that her fluency and understanding of Spanish has improved ever since Mr. Mangelson has been her teacher.
"My Spanish has improved and being in this class has been better for me! I can now visually learn Spanish unlike online where it was more difficult to learn," says  Kahaloa Matlock, "And it's better for me with Mr. Mangelson because without a physical teacher I can't ask the questions I need to get clarification."
"
My Spanish has improved and being in this class has been better for me!"
— Kahaloa Matlock
While Mr. Mangelson's teaching has already impacted students, there are some troubles when beginning teaching in the 2nd semester.
"Since I came back to Shadow later in the year, I still have the feeling that the year just started," says Mr. Mangelson, "I'm still excited and ready to go as if summer was only a few months ago.  Students, however, are feeling like it's Q3 already.  Getting students energized has been the tough part."
Even if students aren't as motivated, his class is still active and entertaining like many of the classrooms at Shadow Ridge. In the future, Mr. Mangelson hopes to teach and expand students' knowledge of Spanish such as teaching AP Spanish literature. He would also love to coach disc golf.
"I would love to teach AP Spanish Literature which is different from AP Spanish Language and Culture." Mr. Mangelson explains, "I am a big fan of Spanish literature and would like to one day teach literature at a university or community college.  I would also like to get a Disc Golf Club started and compete against other schools.  It could be a lot of fun.  Lastly, I would love to start a Sociedad Honoraria Hispánica.  It is an academic honor society focused on the Spanish language with potential for students to be PUBLISHED in high school."