Amazing Instrumentalists at Shadow Ridge
The Shadow Ridge Orchestra has been a part of the high school for around twenty years now, and continues to be a beneficial experience for the students. These musicians are dedicated to their music and love to play their instruments.
Orchestra is split into 4 different sections, Beginning, Intermediate, Advanced, and Chamber. Beginning is all the basics for their chosen instrument which is how to use the bow, what strings go with what and so on. In Intermediate students learn their scales and play more challenging pieces than they did in Beginning. Advanced helps students reach their full potential. This specific class helps the students who want to become better musicians to advance into Chamber where they start playing more advanced songs. If a student has played an instrument in the past they can audition and be put in a class that matches their skill sets.
Senior McCrae Williams is a proud member of the Chamber Orchestra at Shadow Ridge High School. His instrument of choice is the cello. 
"I chose to play the cello because of its versatility in producing both deep and high pitched notes," Williams explains.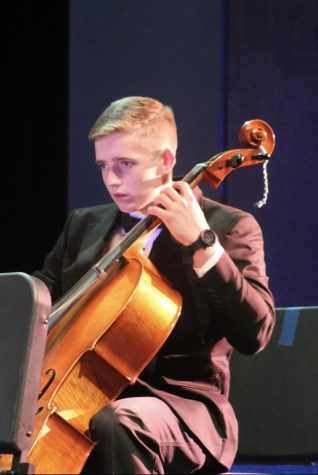 "The rich, warm sound of the lower strings combined with the bright and sharp tones of the higher strings appeals to me and allows me to express a wide range of emotions through my music. I love being able to bring out the beauty in both simple and complex pieces by utilizing the unique qualities of the cello."
 Williams has been in Chamber for about 3 years now and feels that because of it he has grown and improved as a musician. Williams explains that through this class it has helped foster his love for classical music and has improved his ensemble skills greatly. Because of this Orchestra class, Williams has the opportunity to play intricate and enriching pieces with a group of his same skill set.
He has been taught how important it is to blend his sound so that the ensemble sounds cohesive. 
Junior Sam Whitlock played the violin when he was younger but later decided to switch because he feels that he was able to experience the opportunities the viola provided.
He currently plays in the Chamber Orchestra and is known to many as a phenomenal violist. Whitlock feels that through the Orchestra at Shadow Ridge he was able to learn and grow within a group which, in his opinion, is very different from playing solos. He states that it also gives him the opportunity to lead his section. 
"Like all things, it takes practice," Whitlock explains.