Classy Crocheters
Crochet has suddenly become more and more popular, and students at Shadow Ridge are catching on. Crochet is a type of needlecraft. Using hooks, individuals create fabric by making loops with yarn. Many crocheters make things like blankets, sweaters, stuffed animals, and scarves.
Junior Zoe Anderson learned the art of crocheting from her mom and has been doing it ever since. Anderson finds it memorizing and relaxing, she often loses track of time. Whenever she becomes bored she sits down, pulls out her yarn and starts crocheting. Anderson has made many different projects ranging from cup warmers to a seal stuffed animal. She has a harder time with certain patterns but she always finishes her projects especially if they're important to her like the stormtrooper she made for her uncle on his birthday.
"It's honestly pretty simple, you just have to take the time to learn it. I learned from my mom but there are plenty of YouTube channels and sites you can learn different patterns on," Anderson explains.
Junior Mallory Thompson also learned crochet from a family member. Thompson explains that she originally learned from her grandmother but took a break for a little bit, but she eventually picked it back up again. Most of her crochet knowledge comes from her grandmother but says that YouTube tutorials can be a big help.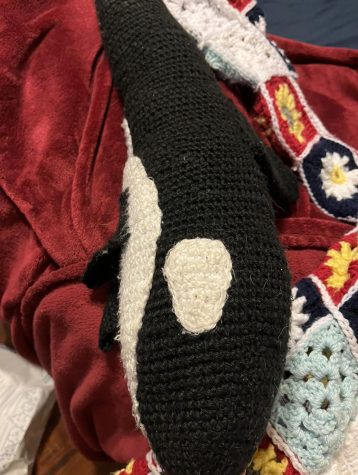 When Thompson was twelve years old she made a stuffed animal, with the help of her aunt, and states that because it was the first major thing she had ever made it was definitely her favorite. She also made a cardigan which she says was the hardest thing she'd ever crocheted because it took forever to make.
"I really enjoy crocheting any type of granny square," Thompson states. "There's a lot of variations you can do such as changing the size and the color. They are easy enough to memorize, and eventually you can make them in bulk."
Crocheting can also be a great stress reliever. According to ARC, because of the bilateral and coordinated hand movements that one does when they crochet, it takes a lot of brainwork therefore distracting the individual. Research also shows that the repetitive movements a crocheter does releases serotonin, a neurotransmitter or hormone normally associated with happiness, which can put the person into a calm state.
Thompson usually crochets only once a week but whenever she's stressed out about school she pulls it out.
"There's not really a science to it, you just get into the rhythm of it and relax," Thompson says.