Food Truck Thursdays
Every Thursday a food truck with many delicious things inside comes to school. They serve a bunch of delicious things like ramen, tacos, sliders, fries, and mac and cheese balls. They also have replenishing drinks like Root Beer, Dr. Pepper, and Sprite.
Kim McCoy is a business teacher and supervisor of the student store and she is the one who was able to get the food truck to come to Shadow Ridge.
McCoy says ¨Several DECA and FBLA advisors in the district manage the student store. I met with several DECA advisors in the fall for staff development day and discussed ideas to assist schools in increasing student-generated funds. The students really enjoy the food truck. I've tried the food from the truck and my favorite food is the fried bacon mac and cheese balls.¨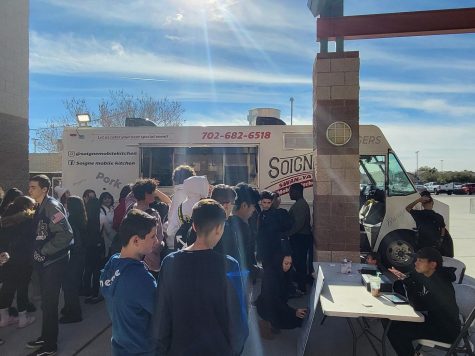 Students are very thankful for Mrs. McCoy because without her the food truck wouldn't have been possible to come to school.
Sophomore Logan Noice, states, "I get food from the truck pretty often. The last food item I got was a quesabirria taco. The food is pretty pricey but it was definitely worth it. It is also convenient that they sell drinks on top of that.¨
"
If the food was cheaper I'd eat at the food truck everyday.
— Logan Noice
Fries cost $4.00. Every food item, excluding fries, costs $8.00, including the three taco combo.
Hudson Hooge, sophomore and avid food truck goer, says, ¨I tried a taco from my friend´s plate and it was really good but I think it's a way overpriced for the portion of food that you get.¨
If students have money to blow then the food truck would be a good option with its palatable food but be alert of its prices.
Skyler FIfe, freshman says, ¨I looked at the price of the food and didn't have enough money to buy it so I just ended up buying a Chick Fil A sandwich from the student store.¨
The student store also serves food and it is slightly cheaper than what the food truck serves so most students will still buy from there.
Sam Stahl, sophomore, says, ¨I had the mac and cheese balls and the middle was soft and creamy. It tasted great but it wasn't that big of a meal and I was still pretty hungry after. I might get something from the food truck again if I'm willing to spend quite a bit of money. Or I will split it with my friends to save money.¨