Learning the Lariat
 In a class where writing skills and attention to detail are put to the test, journalism is the perfect opportunity to be a part of the Mustang community. The class helps all of its participants get involved in school activities, fundraisers, and Vegas-related events while informing everyone around them on these topics. 
The class is led by the amazing Paige Smith, a teacher of dual credit English, who always presents plenty of chances to improve communication skills, learn how to pick out the essential details in a piece of writing, and prepare for all formal writing in the future. In addition, Mrs. Smith always takes the time to help students who want further direction or information to create the best articles for the newspaper. 
"Without Mrs. Smith's help, my articles would be a disaster. She has affected my writing greatly, and I continue to adjust how I write things based on her opinions and helpful critiques," states the current sports editor of The Lariat, Spencer Corbett. 
"
My favorite part of being an adviser is working with kids in a relaxed and unique level. They're hilarious and keep my job from getting boring.
— Paige Smith
Not only so students write articles each week, but they are also responsible for the production of the website. In addition, The Lariat opens up opportunities for its writers to produce their best work and for outside brands and companies to advertise their businesses on the page. 
The Lariat, which has been around at the Ridge since it first opened, has brought fast news and information to its readers for twenty years. The newspaper has advanced much since its time, from stapled sheets of paper to an actual folded newspaper to the up-and-running website.
"My favorite part of writing articles was getting to interview some of my friends or even new people I never met," states former journalist Taylor McEvoy. "I liked inserting cool or funny pictures of them and getting to include them in my articles." 
With getting to pick the spot in the room most favorited after the first few weeks of assigned seating, the journalism room invites lots of comfort and relaxation while encouraging productivity on all levels. Whether it involves writing, interviewing, getting pictures, or editing every word written, there is always somethi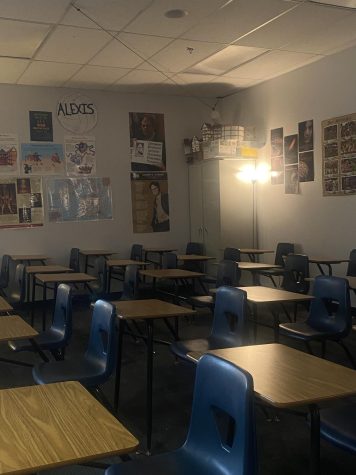 ng going on.
So why join journalism? The class invites each member into a flexible environment where everyone's creativity, ideas, and inventions can be shared and made real. It is not just writing 400 words each week, but an elective that can prove more helpful in the real world than imagined. 
"Mrs. Smith guided me most of the time. Especially during the first year of journalism, it is very confusing, and you can sometimes get lost in what you are writing and miss the article's point." McEvoy continues, "Without Mrs. Smith, I definitely would not have gotten as far as I did writing articles; she gave me a layout and guided me on how to fill it in. She set me up for success."