The Dangers of Football
On January 2, 2023, the world was shocked as they watched Buffalo Bills safety Damar Hamlin collapse New Era Field in Buffalo, New York and not get back up. A critical game for both the home team, the Bills, and the away team, the Bengals, those watching were on the edge of their seats watching as trainers applied CPR to bring back Hamlin's pulse, wondering if the game would resume, or if this tragic event would cause the cancellation of this powerful match-up. Eventually, Hamlin was transported to Buffalo General Medical Center and has since recovered and been discharged.
What is your favorite professional sport to watch?
Sorry, there was an error loading this poll.
This traumatic crisis caused football players around the world to question why they play such a dangerous game. Is there something that can be done to make this violent sport a little safer? Of course, each player is equipped with specially designed helmets and pads, and there are rules preventing unnecessary contact and roughness.
According to the NFL Football Operations, those working in the NFL pull out all the stops to make sure the players are the furthest away from injury they can possibly get. Their website states, "Each year, helmets undergo laboratory testing by bio-mechanical engineers appointed by the NFL and the NFL Players Association to evaluate which helmets best reduce head impact severity."
So why do life-threatening injuries such as Hamlin's and others less severe continue to happen? The entertainment value of the games seems much too high to stop now.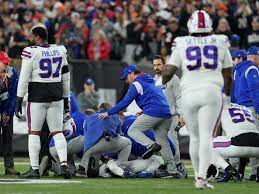 According to SportsManist, "73 percent of American males and 55 percent of American women routinely watch NFL games. NFL games were among the top 20 most-watched TV programs in America in the fall of 2014."
The thought that Americans may be addicted to the danger of the game is a scary one. It does not seem worth the risk it provides for weekly suspense and excitement. the entertainment value of the sport, however, is not the only reason over 1,000 players continue to suit up each week. They have their own personal motivation, and, at the end of the day, know the risk involved when they sign their contracts.
Chris Borland, linebacker for the San Francisco 49ers, ended his career at the early age of 24 due to concerns of brain damage caused by the game. While many questioned his decision, it was only his to make and his own body to protect. On the other hand, Josh Urschel, center for the Baltimore Ravens, chose to continue playing the game he had devoted 10 seasons to when it came time to make his decision.
To The Players' Tribune, Urschel wrote, "I've fallen in love with the sport of football and the physical contact associated with it. Simply put, right now, not playing football isn't an option for me."