Grind Don't Stop
Sophomore at Shadow Ridge High School, Elaina Smith, is an all-star athlete in more than one sport. Starting varsity in both volleyball and flag football, she has learned to put first things first and balance her education and sports in a healthy way. She started flag football in the volleyball off-season purely for the fun of it and it has turned into a great outlet after school for stress relief and a place to spend time with her best friends. 
Starting out with volleyball, she has continued to spend time and energy progressing in that. One way she is progressing in volleyball is by joining a club team. Club volleyball occurs at the same time as flag football, presenting a time management issue for Smith. Although it was a lot at first, Smith is starting to figure out the best ways to handle it all, catching on to the learning curve. 
Smith commented, "To be honest, it's really hard to balance everything. Time management is super important with a packed schedule, and I'm still learning how to manage it all. I try to get as much schoolwork done during school hours so that I can go enjoy my sports after school with no worries."
Smith truly enjoys the many aspects of her sport, playing since middle school, and continues to find new things to enjoy about it. 
"I love everything about flag football, but I love the people on my team more than anything," Smith said. "They've grown to be my family, and practices are filled with so much energy and laughs."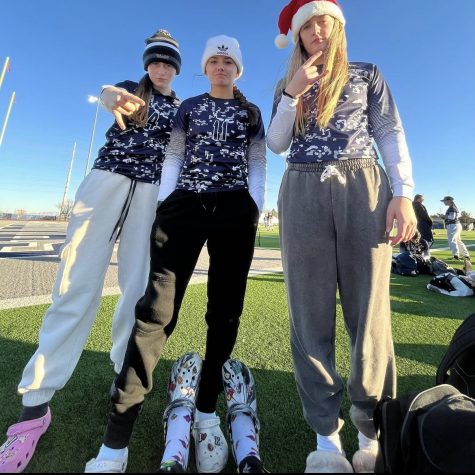 Another special part of Smith's flag football experience includes the coaching staff that has pushed her along the way. Her favorite coach, Andrew Dubois, has been a bright spot that has facilitated Smith's success through high school. Her junior varsity coach as a freshman, Dubois guided her on how to improve and, eventually, this improvement led to where she is now. 

"I love all my coaches, but Coach Dubois is probably my favorite. He's the goofiest out of all the coaches and matches my energy really well," Smith explained. "I also think he understands his players on a more personal level and he will go out of his way to make sure everyone is having a good time."

It is clear that Dubois enjoyed coaching Smith as much as Smith enjoyed her experience and appreciated all the hard work he put into helping her.

Dubois commented, "It is amazing to see all the hard work she put in last season paying off."

Video Courtesy of: Elaina Smith