Flagging Down the Competition
 Being in Color Guard is an experience that people always remember. Junior Kelsie Shepherd knows this, which is why she joined it.
"I joined the Color Guard because my older sister was in the marching band," Shepherd explains. "My mother was a Color Guard captain in high school as well. I've always wanted to perform in a band."
Shepherd's inspiration to do Color Guard was her own mother. She taught her how to do everything she knew.
"My mother inspired me to do Color Guard," Shepherd says. "She performed as a Guard for eight years and then became a Color Guard coach. She still coaches the Color Guard today."
Junior Kenny Kendrick has family ties to Color Guard as well.
"I started Color Guard because my dad and sister were in a marching band, and I thought it would be fun," they explained. "My best friend Kelsie was joining and pushed me to join her."
Color Guard has helped Kendrick experience many new things. It has also challenged Kendrick to have more fun.
"Color Guard is a lot of fun!" Kendrick says, "It is physically challenging, it's a lot of movement in your arms and wrists, and it can be stressful at times, but it's some of the most fun I've ever had."
Senior Katie Mae McDowell started Color Guard this year. When the Color Guard was recruiting last year, she decided to join her friends. A practice began during the summer, so they had to know before the school year started.
"Color Guard starts meeting during band camp, which is in the late summer. We continue meetings when all of the marching band practices until after the marching season is done! McDowell says, "after that, we still participate in band and school events with the rest of the marching band."
Senior Charlotte Larason also joined her senior year. Being in Color Guard means that they have to go to competitions. The competitions take place at many different high schools around Las Vegas.
"We practiced at school on the football field and sometimes right outside the band room," Larason says. "Our competitions take place at different high schools in Las Vegas. Our first one took place at Silverado High School, our second one at Green Valley High School, and our last competition at Arbor View High School."
Sophomore Kaleigh Omori experienced some frustrating moments while in Color Guard, but the finished product made it all worth it.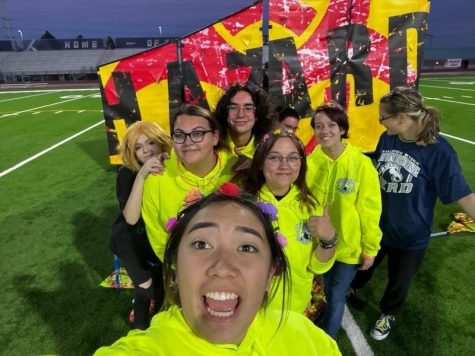 "Color Guard was like learning a dance every day," Omori says. "We had to learn steps while also learning flag choreography. It was sometimes frustrating, but when you finally got a toss or a spin right, the feeling was like none other. I just felt beautiful."
Sophomore Layla Carlos was the co-captain of the Color Guard. She had to adapt to the differences of the previous year.
"As co-captain of the Color Guard, it was fascinating this year, and I had to adapt to the amount of change that happened," she says. "With a new band director and six of the nine members being new, it was a good challenge for me and the captain, Kelsie, to do."
Sophomore Charlotte Overley was convinced by a friend to join the Color Guard. Overley was glad she joined, or else she wouldn't have been able to experience everything she did.
"My friend Char was the main person who inspired me to join the Color Guard," she says. "Sitting at lunch, she told me, 'You need to join the Color Guard. I promise it'll be fun!' She then proceeded to threaten me!"