Stosich Scores
Back on the court this year, Ava Stosich, sophomore, is ready to show the competition what she is made of. Last year, Stosich played on the women's basketball team and she's back at it, ready to play her heart out.
Her interest in the sport first started after seeing her older sister play and thinking that it looked fun. Although Stosich loves basketball, she also participates in many other sports.
She says, "I play tennis and run track as well. I honestly can't pick a favorite because I enjoy each sport in a different way, so it is very hard to compare them all."
"
To someone interested in basketball I would tell them it's super fun and to put in the work because it is worth it.
— Ava Stosich
Stosich has grown up playing sports and has always enjoyed them, especially basketball. Last year she had a very successful and enjoyable season which drove her to participate again. Even with how well she did, there were struggles she faced, like with any sport. 
Stosich said, "A difficulty I face is being consistent with my shot and how I play."
Working on your downfalls can be difficult but will really help in the long run. Stosich continues to work her hardest and improve. Sometimes basketball can be tough but then she remembers what she loves about it. 
She stated, "My favorite part about the sport is how fast paced it is and getting to shoot into the basket."
Always working and moving makes the game so much fun. There is always something going on which creates a mental game as well as the physical game. Achieving your goals and scoring points also makes the sport so enjoyable. 
"Basketball is exciting and really fun," says Stosich. "But you do have to put in a lot of work to improve and get better."
It is easy to get discouraged but putting in the work makes it all worth it as players improve in the sport and win some games. The joy that Stosich finds while playing makes any tough times worth it.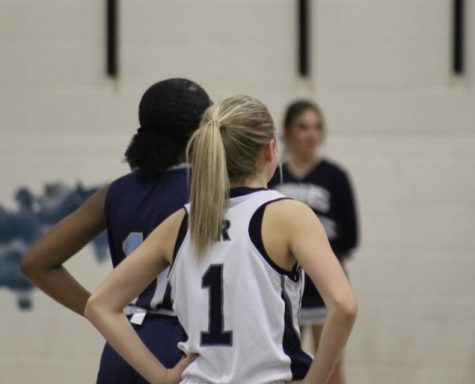 There are also many people she has to work together with that creates struggles in the game. This can be teammates, coaches, and even referees. Learning to overcome difficulties with others is something Stosich had to learn that only helped her get better. 
Stosich has had a great season already and cannot wait for the rest of the year to improve and win lots of games. As she continues to play basketball through high school, she is looking forward to creating stronger friendships with her teammates and achieving more of her goals in the sport.