Paul Wescott's TikTok
TikTok is an app with lots of young users and content creators. TikTok has had a lot of success because it is great for people with short attention spans. It has a lot of different types of videos that can range from 15 seconds to as long as 10 minutes. Most viewers get hooked by the quick information or comedic posts. It has videos of dancing, challenges, trends, filters, and more. TikTok has 750 million monthly users as of 2022 and is a great way to disperse information.
Junior, Paul Wescott is a TikTok creator who attends Shadow Ridge and he is gaining a pretty large following. Wescott plans to keep making content on TikTok in the future and he wants to expand his following and his platform. 
Wescott says, ¨I want to keep posting and see where it goes, maybe I can get more followers and potentially become popular on TikTok.¨
Wescott posts comedy and silly videos on TikTok, some of it being baseball content and some of it being random videos that get a good laugh. Wescott is a creative creator and posts videos out of the ordinary.
¨I get my ideas from whatever is on my mind and if I find something funny or what I think is entertaining, I consider posting it.¨ 
"
I want to be known as funny and entertaining."
— Paul Wescott
Wescott plans to keep posting on TikTok and has a follower goal he wants to reach.
Wescott states, ¨I'd like to hit 10,000 followers and maybe get to 500,000 likes one day.¨
Wescott has had some success with growing his account and getting a high amount of views and likes on his videos. 
Wescott remarks,  ¨My most liked and viewed video is a baseball video running the bases in reverse which got 800,000 views and that is what motivated me to keep posting more content and helped me build my following.¨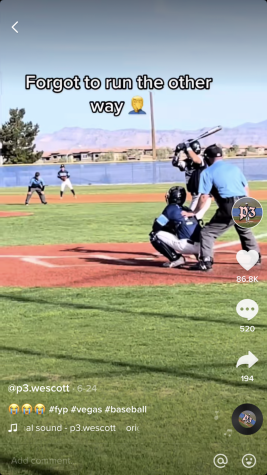 Many popular creators on TikTok do content creation as a full time job. TikTok pays very successful creators who get lots of views. Wescott may try to have TikTok be his part or full time job depending on his future account success. 
Wescott says, ¨If my account can keep growing and I get a big enough following or continually get lots of views on my videos I might consider in the future making TikTok way to make some extra cash.