Project Share the Holiday Love
Being alone on the holidays is tough, especially for foster kids. Junior Taylor Brimhall knows this all too well and wanted to share the joy that the holidays usually bring to others.
Brimhall came up with the idea to go around other schools creating and collecting holiday cards. After she gets them, she gives them to a foster care advocate she found to give to the kids.
"I found the foster care advocate for our school by calling a woman named Vikki," Brimhall explains. "She works at CCSD, specifically the foster care facility and she gave me the name of the staff member that was the foster care advocate at our school."
Brimhall was once a foster kid. Brimhall's motivation for this project was to help the kids not feel so lonely on the holidays.
"I started this project because I was a foster kid once and know how lonely the holidays can be," Brimhall says. "I wanted to share the joy of the holidays in any way that I could with these kids so that they could feel love too. I remember getting holiday letters when I was in the system and just wanted to give these kids the same joy that I felt when I got one. The kids don't get much so a simple letter goes a long way."
Sometimes getting people to put in the work and get the cards done is a bit hard. Brimhall tells her story to get them on board with her project.
"I share all of my personal experiences and tell them how much these affect a kid's life," she says. "I make it super personal so that people understand what life is like when you're in there and how sad and lonely it can be. This makes the letters easier for them to write and know what to say."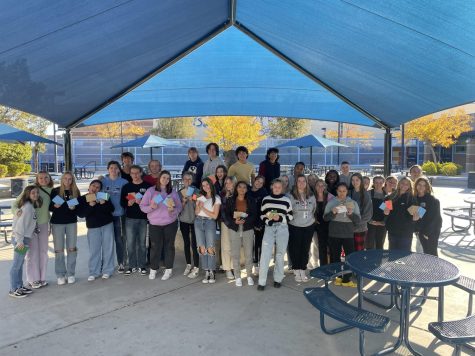 Brimhall travels to other schools in the CCSD district. She meets a whole lot of different people and makes new memories.
"My favorite part about this project is seeing so many strangers take the time to do this sweet thing for other kids, it makes me so happy and really touches my heart," she explains. "I love seeing the love that students have for these kids that are strangers to them."
The project "Share the Holiday Love" came with a lot of brainstorming. Once Brimhall figured out how she was going to do the project, she had to find an actual name for it.
"I came up with the name while interviewing with Mrs. Kannon for my project, she helped me brainstorm some things and we came up with the name together," Brimhall says.