Dancing to Shadow's Showcase
On December 3rd Shadow Ridge dancers performed their first showcase of the year. The Holiday Extravaganza featured many of Ms. Breckenridge's, the dance class and team instructor, classes and her current dance team. The dancers danced in a variety of styles and plenty of different songs.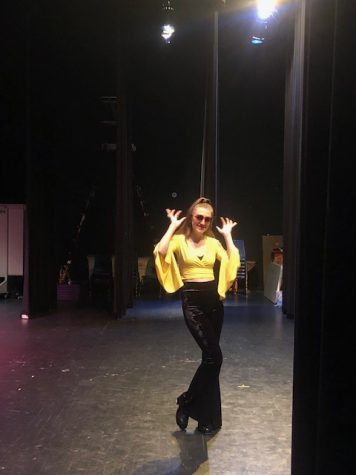 Sophomore Jodi Barber has been dancing since she was three years old. She is on the school dance team, takes the dance class here, and even dances at a studio outside of school. This is her second year being in dance and she loves it. Barber danced to classical music from the Nutcracker Ballet. She explains that it took a long time for her and her team to put together the story for their dance and the characters that help express the overall tale. 
Seniors Hailey Dyke and Bella Hawkins are also on the dance team. Dyke joined the dance team her junior year but was in dance since she was a freshman. Hawkins also joined the dance team her junior year. She has danced since her freshman year. Both Dyke and Hawkins dance to some Nutcracker pieces and Vienna by Billy Joel.
Dyke stated that her confidence definitely went up as she practiced and perfected her parts. Hawkins also feels she has progressed.
"I put a lot of time and effort into these dances…" Dyke states.
Barber was pretty nervous about messing up but says that everything turned out okay in the end. 
"I'm pretty confident with how it turned out," Barber explains. "We put a lot of work into it and wanted it to turn out great…we gave all we had on the stage, so I think we all played our characters well." 
Hawkins states that she was super happy with how the showcase turned out.
She says that she was very nervous to go on stage because she feared she would fall, or something along those lines, but once she got on stage she let the music guide her through the steps. Dyke agrees, she states that she was confident that the dances looked great. 
"We've all been working really hard this past month to feel confident about what we are showing to the school," Dyke explains. "I was a bit nervous but once I get out on stage and perform I just let it all in and I'm happy. I was nervous about messing up or forgetting something important. It turned out to be fine in the end."