UNLV Rebels Hot Start
Nevada's UNLV basketball has had an amazing start to their season. The Rebels have gone undefeated 8-0 to start off the season and they have not had an easy schedule either; they have faced many highly placed schools including Dayton, the 21st ranked school in the country. 
Sports analysis Kevin Kruger says, "For UNLV, the calling card of course has been the defense. There is length, athleticism, and discipline to stick to the scheme. It has resulted in outstanding numbers in most defensive categories, including ranking number one in the entire nation in forcing turnovers."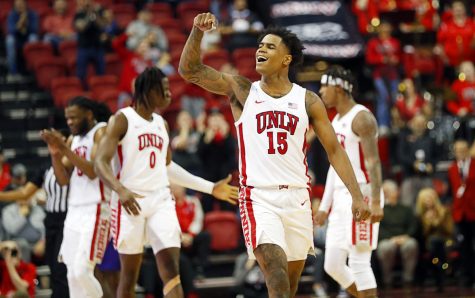 The team has been able to beat other teams by using a good defense. This defense mainly consists of forcing turnovers and then driving down the court while also using their exceptional offense. 
Another key component to this defense is the eclipse strategy. This is best used by a center when the gap is too big between the defender and the shooter. As soon as the enemy team shooter jumps for a shot, the defender that is too far away to get close to the defender jumps up at the same time to try to distract the shooter. This has proven effective and kept the shooter only 4/22 wide open shots made.
SRHS Basketball player Bryce Cannon says, "I've watched a game and was amazed at how efficient their defense was."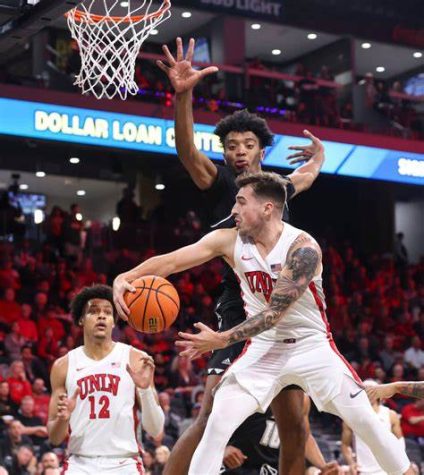 The team has an outstanding component to their offense too. Their 3 point game is undeniably amazing with the team averaging 43% efficiency so far which is the 3rd best in the country. In their game against Life Pacific the team averaged 60% from the 3 point line.
 UNLV Forward Karl Jones says "I think that our defense is good but I think our 3 pointers are even more important than that."
Overall the team has been dominating so far and continues to make all rebels fans proud.