Men's Cross Country Team Wins State
The Shadow Ridge Men's Cross Country Team came in as the underdog and pulled off winning state by one point. The team barely beat Reno with a score of 107 to 108. The team was led by sophomores Carson Wetzel and Landon Larsen who placed 8th and 13th place in the race. This is the first time the Men's Cross Country Team has won state. It seems only appropriate given this is Shadow's 20th anniversary as a school.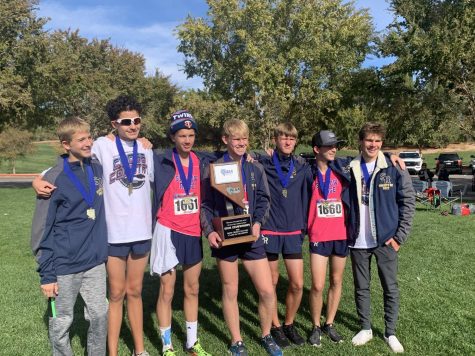 Freshman Dylan Bailey states, "I walked up to the start line thinking we would get top five and I crossed it with our team in first place."
The team had been training their hardest all season in the hopes for this win but knew it would probably not happen. 
Senior Ryan Stevens states, "This is my last year, I wanted that win more than anything and now I feel my senior year is complete."
A main part of this win was due to the team's excellent coaching. The coaches this year focused on less mileage and more intensity over the plan last year which was more mileage less intensity.  This coaching led to the win. Coach Flynn also won the 5A Coach of the Year Award.
Excellent coaching, while helpful, isn't everything. The team's success also came from the runners enthusiasm on the team throughout the season. The team was not expected to do well after losing 4 of their top 8 last year. Luckily for them they were able to have many skilled new runners. Two of those runners being freshman Connor Fife and Dylan Bailey. As the season went on the team got better and better at each meet. 
Sophomore Carson Wetzel says, "Every race I could feel our team getting faster and faster."
Then they got their first big win over Faith Lutheran at the coaches invitational. This win was big because it was the first time all year a team had beat Faith Lutheran. Faith then came back and beat Shadow at Regionals. That victory was short lived for Faith who lost not just to Shadow but also Reno at state. 
Shadow's Cross country team is hoping to bring home another first place next year.