Dribbling for Shadow
Chloe Reoyo

Basketball season has just started and junior Dylan Pullen is getting ready to go back to the court. He has been playing this sport since 4th grade and is on the Shadow Ridge varsity team. Pullen is in his fifth year of the sport.

"I have played basketball since I was in 4th grade. I joined the basketball team to continue all the progress from my past years of basketball," comments Pullen.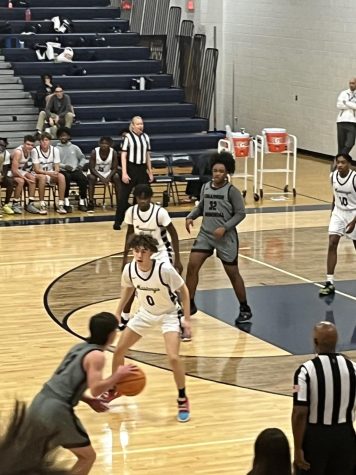 Basketball is a very complete sport because it combines agility, speed, shooting, cohesion, and taking initiative. It also involves being part of a team that can count on the player and that the player can count on. Players learn about how the others play and how to adapt to their games to be stronger. 
"I like the sport and everything about it. I also like developing friendships with my teammates," explains Pullen.
But it also has some negative aspects. At the beginning of each season, the players' body and mind needs to get used to the court again. Players need to get back in shape and work again on basic movements. Even if they're glad to be back on the court and the beginning of the season. 
 Pullen says, "I don't like conditioning."
When people join a team, their expectations are high. They want to win and discover all the positive sides of the sport and be part of a team. 
Pullen states, "My expectations for this year is to win the championship, getting better everyday as a team."
Being part of a team in high school brings a lot to a student. They learn about responsibilities. Players need to keep good grades and get to class on time in order to stay on the team. It involves caring for other people and caring for themselves.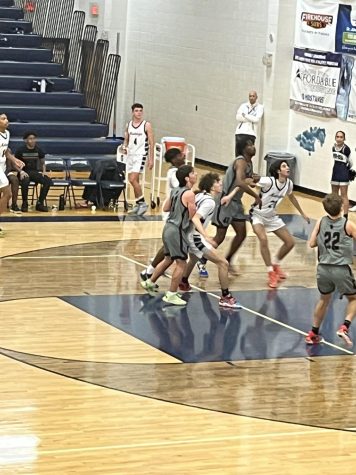 Players like the commitment that their sport requires. Student athletes also like the memories they make and the opportunities that come with it. It can open doors to big universities and scholarships. Players get to experience unique experiences that student who don't belong to a team don't get to live. They get involved in school. 
Pullen explained why students should join the team, "It's a fun experience and good memories for high school."
Practices and games are two very important things in a sport. Some athletes like the comfort of practice and being able to fail and learn, being able to communicate with the team and the coach more easily. Other players like the adrenaline in the rush of games, where they can apply what they have been practicing for the past weeks. Pullen is part of the second category. 
He explains, "Games are more fun because you put the work in during practice to be successful in games." 
His goal for this year is to win the championship. The Shadow Ridge basketball team is working hard to be the best version of themselves during this season. 
"Win a championship, that's the main goal," justifies Pullen.