Amy Coney Barrett Confirmed as New Supreme Court Justice
On October 25, 2020, Donald Trump's nominee for the Supreme Court,  Amy Coney Barrett, was confirmed, to fill the seat of Ruth Bader Ginsburg. Controversy was sparked due to her confirmation, mainly by the Democratic party, with the now 6-3 conservative majority in the Supreme Court, and has brought up the debate of expanding the court should Democrats win the Senate.
"She is one of our nation's most brilliant legal scholars, and she will make an outstanding justice on the highest court in our land," President Donald Trump states. 
Biden has not expressed his opinion on packing the court but other Democrats, such as Nancy Pelosi and Alexandria Ocasio-Cortez, have been vocal about their stance on the expansion of the court. 
"Republicans do this because they don't believe Dems have the stones to play hardball like they do. And for a long time, they've been correct. But do not let them bully the public into thinking their bulldozing is normal but a response isn't. There is a legal process for expansion," Congresswoman Ocasio-Cortez said.
Barrett is favored amongst conservatives for her religious views and family values.  She graduated at the top of her class at the University of Notre Dame Law School. She is the only sitting justice to have a law degree from a school other than Harvard or Yale.  She is also the first mother of school-aged children to become a Supreme Court Justice at age 48.
"If we are to protect our institutions, and protect the freedoms, and protect the rule of law that's the basis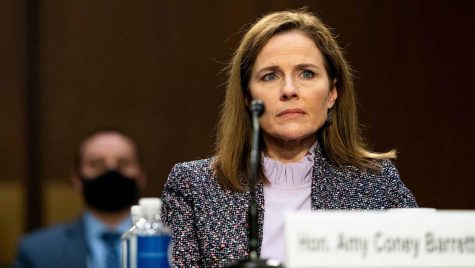 for the society and the freedom that we all enjoy- if we want that for our children and our children's children- then we need to participate in that work," Justice Barrett said.
Barrett keeps her views neutral in court, such as her stance on the Roe v Wade case.
"I can't pre-commit or say, 'Yes, I'm going in with some agenda,' because I'm not. I have an agenda to stick to the rule of law and decide cases as they come," Barrett said.
Barrett also stated during her confirmation hearing, " "Courts have a vital responsibility to the rule of law, which is critical to a free society, but courts are not designed to solve every problem or right every wrong in our public life."
But suspicions arose when it was reported that she was apart of the "Faculty of Life" anti-abortion group at the University of Notre Dame. Pro-choicers fear for the overturn of Roe v Wade because of her confirmation.