Artful Appreciation with Ms. Kehr
Melissa Kehr is one of the painting teachers at Shadow Ridge High School. She teaches Painting I, Painting II, and Advanced Art. 
Painting helps students by developing their creativity, enjoy time together, and by allowing students to get to know each other in a relaxing environment.  
"I enjoy teaching painting, and it was a good opportunity for me to learn to teach painting at a higher level," explains Kehr. "I taught elementary students for 14 years!"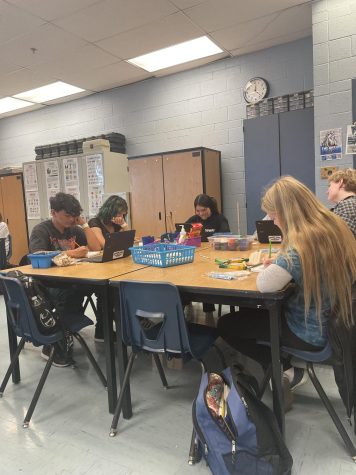 Students enjoy painting classes but so does Kehr. Teaching art classes requires having passion and loving art. It allows people to play and learn at the same time. 
"Painting is fun! I like that we are focusing on color most of the time, and playing around with higher level concepts dealing with representing and manipulating color," tells Kehr. 
Art is subjective, which makes it harder to grade and teach. What someone thinks is beautiful might appear ugly to someone else. 
Kher justifies how she judges each student, "I teach standards-based art education, and I grade students based on a standards-based rubric. I am looking to see that my students tried to fulfill the criteria outlined in the rubric because we are all at different skill levels."
"
Painting is so fun and I love the learning environment. My paintings are looking better each time, the class is very encouraging"
— Amelia Shaffer
Her favorite thing is how relaxing a class can be. Students are focusing on their paints, listening to some music, and helping each other while Kher walks around the classroom, making sure everyone is doing fine. 
"My classroom is very relaxed and I like how painting can be very relaxing," says Kehr. 
But sometimes there are some negative aspects. Since everyone needs to share their p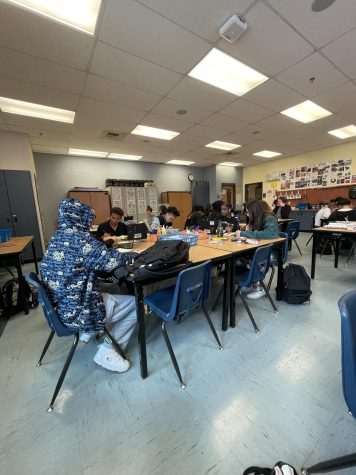 aint, bottles of paint travel the table all the time, and sometimes some accidents happen. 
"Painting can sometimes be messy!" laughs Kehr. 
Kehr also taught university students but a great offer came to her and she decided to start a new adventure. 
"I applied for and was offered the position. It seemed like a good move for me as I transitioned to teaching university students," explains Kehr. 
But teaching students is not the only activity of Kehr. 
"I am continuing to refine my curriculum, and I am working on my next degree: a terminal Doctorate in Education," says Kehr. 
Kehr only wants the best for her students, she wants them to be happy and improve in painting. 
"What I want to teach to my students is to be kind and forgiving to yourself, and to accept imperfection," comments Kehr.