Glittering Lights
Hosted at the Las Vegas Motor Speedway, the Las Vegas Glittering Lights is a holiday drive-thru experience that returns to the Las Vegas Valley each winter season. Open from November 10 until January 8, there is plenty of time to be nourished with the joyful feeling of winter spirit. Along with the infamous lights arch that displays 5 million lights, there are many events to enjoy down at the Speedway for the whole family.
What is your favorite Christmas light color?
Sorry, there was an error loading this poll.
Starting around 20 years ago, the Glittering lights began as a way to give back and create memories for the holiday season. They support and host many charities, collecting donations of warm winter wear, supplies, and monetary contributions for those in need all around southern Nevada. The Speedway Children's Charities receives a portion of the profit earned from ticket cost. Each year in November, they host a PJ5K run to raise money for charities all across Nevada.  Concessions can also be purchased that include hot cocoa, butter popcorn and kettle corn. The proceeds for the concessions are donated to Boy Scouts of America.
Some activities children can participate in include riding on the Santa Tram, watching fireworks, and enjoying live nativities. Although they sometimes may sell out of Santa Tram tickets, general admission tickets do not sell out.
They also cater to many people, offering discounts for military and groups of 25+ people. They also offer a FAST PASS which allows customers to "dash to the front of the line and drive-thru millions of dazzling lights!" Finally, they offer a season pass for those who cannot get enough of the beauty on display at the Speedway. Those who are in need of an extra helping of Christmas cheer should pile into the family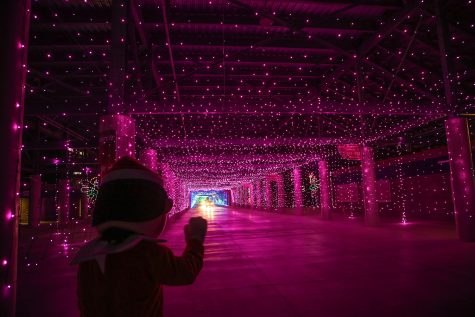 head on down to the speedway-there is no limit for the number of passengers at the Glittering lights.
Junior Ali Rizo was intrigued to hear about the Glittering Lights. "I haven't been but it looks like a good family bonding or even friend group bonding experience," she said.
Junior Jesse Dinkfield has been able to participate in the "family bonding experience" and was not disappointed.
"I went to see the Glittering Lights and it felt like a magical holiday wonderland." Dinkfield said. "It had all my favorite holiday cheer and it made me feel like a kid again inside. Being able to spend time with my friends and family and grow a stronger relationship with all of my loved ones is exactly how I like to spend my holidays.