Serving Up a Big Win
  Cruising through the season until the end, the Women's Tennis Team at the Ridge has smashed their way through the current 2022-23 season to a State Championship win. Though the matches were not easy, the team only had one loss during the season. 
For the players, it was a fun ride to victory, especially for those who have waited for the championship opportunity to come following their regular season. Working on technique, smashing down volleys, and most importantly, acing their opponents. 
"It feels so good to win a state championship. It was cool to be able to win as a sophomore because I have two more years to improve and play better people," states sophomore State Champion Emery Myers. 
Myers has played tennis for the Ridge since her first year and plans to continue playing throughout her high school career. She also believes that her game and her teammates' strategies can improve by building more skills with volleys. 
Taking the title of State Champion can come with the cost of defending the significant role they have earned. So, when setting high expectations, the team will have to perform better than ever to remain defending champions.
"The win this season will definitely put the pressure on us for next season. It definitely shows us that success is possible, but it will encourage us to work even harder to ensure the same result next year." Junior State Champion, Renee Dexheimer, continues, "As long as the team stays humble and does not get too comfortable or over-confident, anything can happen next year. Next year can go either way, and we will have to work just as hard as we did this year."
Learning and applying everything she has learned, Dexheimer has played for Shadow's team since her first year and will spend her senior year doing the same. She is always willing to lend a helping hand, guiding her teammates through any problems or challenges.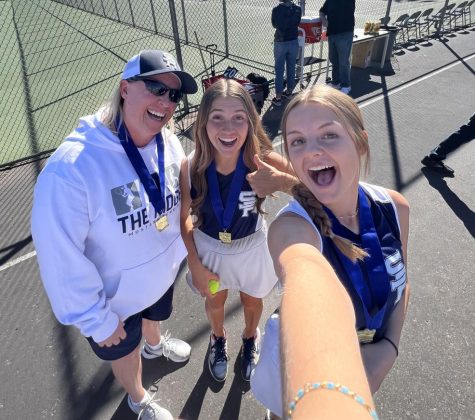 The pressure was on the coaches this past season as both tennis teams received new coaches. Nevertheless, when the scores and matches were cut close, Coach Heather McEnaney guided the team through the hardships and triumphs the team encountered with ease. 
"It has been exciting watching everyone grow as far as in their skill level. Also, understanding their roles, as sometimes we would have singles play with doubles or vice versa; it has been nice to see everyone get better. Especially coming through at the end of the season," McEnaney states. 
This year's tennis team is awarded for their perseverance, ability to improve in every way as conditions, and working together as a batch of talented players. The pressure and expectations are on for the team following this season, but there is not much this tennis team cannot smash their way through.