Joy for Toys
Every year, millions of kids go gift free because households cannot afford to buy presents for the holidays. Charities like Toys for Tots, Angel Tree Christmas and Make a Wish Foundation make the magic of Christmas possible for the less fortunate. Toy drives get a lot of recognition every year. Donations can be made for these charities to buy the toys on kids' personalized wishlists.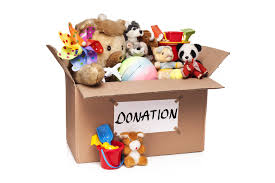 Junior Emma Clement says, "Toy drives are good and charitable, I think it's great that companies do this kind of thing."
Clement is right, and charities raise a lot of money each year, especially around the holidays. According to Paddock Post, Toys for Tots raised $198 million last year with toy donations, and those who donate cash help with the expenses for toys and company savings. Angel Tree Christmas , also known as the Angel Giving Tree, gets their recognition by hanging wish lists from kids in need who just want a normal Christmas on a tree inside of stores. The tags contain the child's information to allow people to buy accordingly. Lots of people pick a wish list off of the tree to go and shop for these kids, making their wishes come true.
Sophomore Maya Garay explains,"Toy drives are super effective especially during the holidays because kinds in need are able to receive toys if their parents aren't able to provide them."
The Salvation Army (who runs Angel Tree Christmas) has online options for those who still want to make an angel's wish come true without having to go in store. A simple donation button can be found on their website, or with another click, anyone can donate a toy.
"It is a great act of kindness that benefits everyone," Garay continues. 
Make a Wish Foundation takes donations and toys just like many other toy drives. These places make it possible for children to find joy around these emotional times. Make-A-Wish prioritizes children who are sick. This time of year can bring nostalgia to many kids and their families who are praying for a cure. By giving, so many kids around the world can benefit from just receiving a gift from a random person. Reaction videos and awareness can be found on charity websites, showing just how much impact is made.
"Charities who prioritize Christmas are just great, they give to people in need and bring them unconditional joy during such a hard time of year," Clement continues.