Roughing up the Playing Field
Breaking the stereotypes and society's normalities, women's sports have flipped the switch to create a reputation that is hard to compete with at the Ridge. Nevertheless, these girls and their coaches work hard to prove to the audiences and themselves that no matter what happened in the past, the hard work never stops.
A wide variety of activities, from bowling to cross country, there are many options and opportunities that these girls have taken part in to create a name for their team that they can be proud of.
"It is all about confidence, if anyone were to doubt my skills or abilities, it would get in my head, but my mindset would grow stronger to prove them wrong," states sophomore Varsity Soccer Player Kendal Houghton.
"
I think it's so amazing to play on an all girls team because we all support each other and are comfortable with one another. Helping us grow as individuals and as a team. "
— Isabel Phelps
Houghton has worked endlessly for her spot on the team, and she will stop at nothing to achieve her goals on and off the field. The pressure is on the players and their coaches, who take on the responsibility of leading their teams to victory.
"You are not going anywhere in life if you base your decisions on what everyone else thinks. How are you going to grow, lead, or beat your own drum if you're worried about what others are thinking, " says Head Varsity Soccer Coach Kalah Williams. "I felt the most powerful and the surest of myself on the soccer field, which translated into my life. You have to lead, don't follow. At the end of the day, you are leading your own life, not following someone else's."
Coach Williams's passion carried over into her career, helping her develop an open and comforting personality that is shared with her peers and everyone around her. Williams has been in her players' shoes before, as she has played soccer since she was seven years old, but she will be leaving behind her leadership role to focus on the big picture.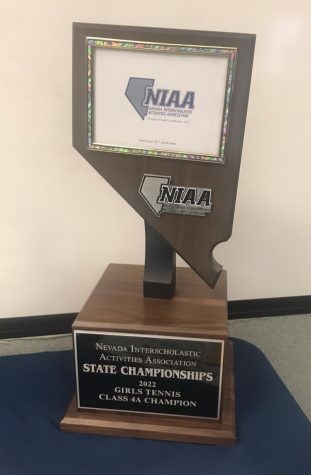 Though rest days are needed, the work never ends for returning sophomore Flag Football Player Abbey Huntsman. She keeps her head in the game while finding the best times to keep her teammates motivated.
"My biggest accomplishment is that I feel more comfortable and self-respected toward myself. At the beginning of the year, I had a lot of social anxiety, and I wasn't even going to try out for flag football, but I decided it was what I wanted, and now I could not be happier." Huntsman continues, "But that was also a challenge. Coming out of my shell and meeting new people that I had to spend almost every day with was hard for me to do. Now those girls are my best friends and my sisters."
Taking all they do into consideration, being a woman in athletics is not an easy task as there can be many obstacles and walls always attempting to keep them from reaching their full potential. Shadow Ridge has women's golf and wrestling teams who won state championships in their division. Reaching for the sky, each of these dedicated players will have to keep striving and working for the top, which proves to be no problem for these athletes.