Parking Around The Ridge
New this year to Shadow Ridge is the edition of parking permits for students who park their cars here at school. Parking permits are simple and easy to obtain. Anyone who needs a parking permit must fill out the Google Form that can be found on the Shadow Ridge website underneath the "students" tab and labeled "student parking registration." Parking permits are free to obtain for students and it is a simple process. It is not too late for students who still do not have one or still need one. Students can fill out the form throughout this entire school year. 
Parking permits were implemented at Shadow to improve safety within the parking lot and have already proved to work. 
Office Specialist, Mrs. Angela Quintana says, "We were able to identify a vehicle that was trespassing."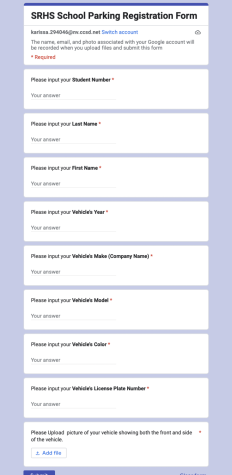 Parking permits shouldn't be a hassle, and Shadow Ridge staff has made it as easy as it gets. If a student were to share a vehicle with their family and have a different vehicle some days, they do need a permit for every car they are to bring, but Mrs. Quintana has made it simple and easy to obtain. 
"If you need more than one permit I can give you another for that specific vehicle," says Quintana. 
Once a student fills out the form, they will need to get their actual parking permit. 
"It is a physical thing with all the information that you enter in a QR code," Quintana adds. 
Displaying a parking permit is simple, easy, and can be figured out by anyone. The parking permit does need to be displayed in any car parked in the lot similar to how a handicap placard is displayed. 
"The parking permit resembles a hanger and hangs from the rearview mirror of the vehicle," says Quintana. 
While they may be a great addition to Shadow Ridge, they don't last forever.
"This parking permit is only for the school year 2022 through 2023," says Quintana.
Students will need to replace them next year and can not use the same one. 
Students themselves have loved how easy it is to get a parking permit. 
"I recently started driving and parking at school. Once I learned I needed to get a parking permit I did," says junior, Anni Thomas. "It took me maybe 5 minutes to fill out the form, I appreciate how easy they made it for students to do." 
Do you have your parking permit?
Sorry, there was an error loading this poll.