Racing Around Las Vegas
In 1950, Formula 1 racing was created coming from the European Grand Prix. Next November, this race will be coming to the city of Las Vegas, Nevada. This is very exciting for many avid watchers of the event.
"I really love cars and everything about them which is what kind of got me into Formula 1," says Justin McAlister, sophomore. "I think that it is super cool that the race will be coming to Las Vegas. I most likely won't actually be there but it is still a big event that will take place here which is awesome."
Formula 1 is the highest level of racing in the Fédération Internationale de l'Automobile (FIA)  with the fastest race cars and top drivers from all over the world. The season changes each year with the number of races that will take place at varying locations, which will lead to a definitive race winner. The 2023 race will consist of 24 races.
Races take place all over the world. Each week the racers are found in a new area competing to earn points and win the overall championship. It is exciting to see that multiple races will take place in the United States next year with one in Las Vegas.
Sophomore, Ryan Lovett says, "My dad is the reason I like watching car races. I first just liked NASCAR but I explored the different types of races when I found F1 and really like it."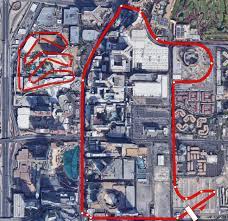 The last time Las Vegas was on the Formula 1 schedule was in 1982, 40 years ago.  The race that took place then was the Caesars Palace Grand Prix. The track was a circuit which was set up behind the casino and the drivers would go past the main Las Vegas highway, Interstate 15.
Next year, the track will take racers past many of The Strip's famous casinos and buildings. Racing down Las Vegas Blvd they will see many iconic attractions. At high speeds the cars and drivers will be put to the test navigating the intense track.
Lovett says, "The many drivers going so fast around the turns fascinates me. It is a very scary job but they have so much control when driving."
Formula 1 racing is a very interesting activity that requires a lot of control, concentration, and practice. It is super exciting that the event will be coming to Las Vegas next year for many locals and visitors to enjoy.