Men's Tennis State Champions
After a long and hard season, on and off the court, Shadow Ridge´s Men's Tennis Team earned 1st overall in the State Championship as a team in the 4A division. The team practiced four times a week and had a lot of dedication which was worth it in the end. 
Sophomore, Bridger Johnson and sophomore, Zachary Stout placed 3rd overall for duos. 
Bridger says, ¨I felt very confident in both mine and Zach's ability to help contribute to our team in State and as individuals. I felt very good about where we stacked up with the rest of the field. Taking 3rd place was a very good accomplishment.¨
Johnson also claims he will play tennis next year and try to win state two years in a row
Stout says, ¨I am very glad Bridger was my partner and am quite proud with our placement. I have big plans for next year.
Sophomore, Kaden Moya and junior, Jason Mersereau placed an amazing 2nd out of all doubles teams in state. 
Moya shares, ¨Jason was pretty lit to have as a partner and I feel very accomplished of our final placing.¨
Moya is looking forward to playing tennis next year by sharing, ¨I had a lot of fun and can't wait until next season.¨
"
¨Next year we are going to come back even better.¨"
— Kaden Moya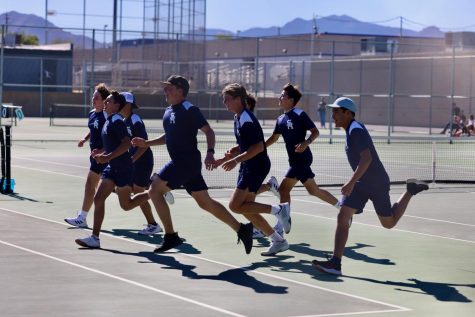 Mersereau quotes, ¨I loved having Kaden as my partner and I feel great about the season as our team placed 1st.¨
Sophomore, Andrew Stout who stayed focused and worked hard all season placed an amazing 4th overall in singles for state saying, ¨I have worked really hard this season because I did not practice so I had to make up for not practicing. I feel like it was it was worth it because I did pretty good for just my second year so I'm happy with it.¨ Stout also states, ¨I am definitely thinking about playing next year and might as well try to get a better placing.¨
Senior, Sam Roe who placed an astonishing 3rd overall for singles and worked really hard in state and the regular season quotes, ¨I feel really good I got third and glad I can represent my team and my family.¨ Roe also shares, ¨I feel like the more you get in the more you get out. I put the hard work in especially when I didn't feel like it and it paid off. This applies to anything else in life.¨
Junior, Brock Morrow who placed the best singles on the team had a breathtaking 2nd overall placement. Morrow had an incredible work ethic throughout the season and says, ¨I am very proud of how far I made it in singles, I will finish the job next year.¨
Morrow is playing tennis next year and he says, ¨I will come back senior year as a tennis menace."