Samantha Ciprian's Influence on Social Media
Almost every person has social media or knows people who have it so it's no surprise that a few students within Shadow Ridge High School have become influencers within the social media industry world including senior Samantha Ciprian who has a Tik Tok account with 166.5 thousand followers and 8 million likes, while also being able to collaborate with clothing brands, contact lenses and candy companies, and skin care brands like Zaful, Texas Chile Dulceria, TTDye Eyes, and Drunk Elephant.
Ciprian first started her account in May 2021 where she originally posted videos about her quinceanera. From those videos she had gained 20,000 followers. Her TikTok quickly evolved into "Get Ready" videos where she gained 70,000 followers.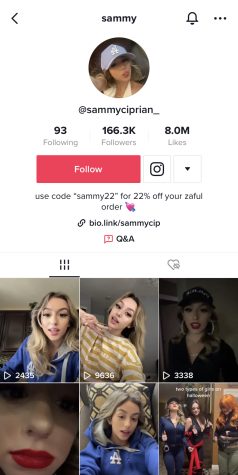 And even now she continues her influencer career, making videos, and gaining more followers on her platform; Ciprian never intended to become an influencer, but then she remembered when she was five and would make videos and pretend to post. Now she finally feels as if she is living out her five year old dreams. With her platform, Ciprian encourages her followers to have an opinion and for everyone, including herself, to have fun. Posting her "Get Ready" videos on Tik Tok is a place where she can do exactly that. While she does want to have fun there is a certain target audience that she does want to attract with her videos.
"I guess my target audience is people my age or younger teenagers because I have a lot of family members and I know that a lot of things that are getting posted nowadays are things I wouldn't want my 11 year old cousin doing. At the end of the day all my videos are three minute videos, where I am letting people in my life, but I only want them to see the positive."
Ciprian's family are her number one supporters and they enjoy everything Ciprian posts.
"My mom and my dad are my biggest supporters," says Ciprian. "They're usually the first people to see my videos once I post them, mostly because they want to make sure I post everything that's age-appropriate. My friends are really supportive too. They respect the grind, and when I need to record, they're not annoyed or anything like that and they don't make me feel different just because of followers."
Even with all the support, followers, likes, and the feeling of being able to speak out, Ciprian still feels the pressure and stress that most influencers feel within their platform.
"
The thing I enjoy most making TikToks is definitely the comments because it helps me interact with my supporters and I feel like it's super fun too. I get to see their enthusiasm when I respond.
— Samantha Ciprian
"There is so much pressure around being an influencer that no one really talks about. It's actually something really nerve-racking because I have a wide range of kids looking to me for answers about their problems; it is kind of stressful because I don't always know what to say. I feel obligated to speak out on things on behalf of my followers, such as human rights and stuff which I really don't mind at all. If I can be their voice for anything I would; if I could even fight all of their battles for them, I would."
Though the pressure of an influencer does feel weighty at times, Ciprian can definitely say that one of her favorite parts of being an influencer is being able to see comments and interact with the supporters viewing her videos. She loves seeing the enthusiasm they have. She loves to make their day by responding to them and thanking them for the endless support and encouragement she receives.