Tumbling Towards Triumph
Junior Ava Giolito is a varsity cheerleader at Shadow Ridge High School. She has been practicing this sport from an early age and she cheers at every varsity game, which can be difficult due to all of the routines that must be learned.
Giolito says, "My name is Ava Giolito. I am a junior at Shadow Ridge and I also am a varsity cheerleader. I have been practicing cheerleading for 9 years. "
Cheerleading plays a significant role during a game. Cheerleaders' routines motivate players and the public. Cheerleaders lead the crowd so that everyone does the same movement and entertains the crowd with their dances and stunts. They also help the players to give the maximum of themselves to lead their team to victory.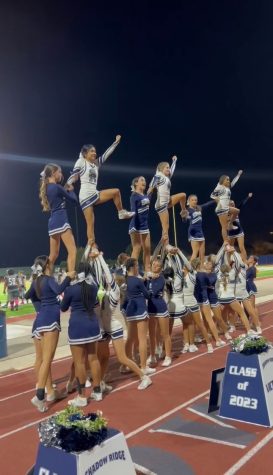 "Cheerleading brings spirit to games and helps support the sport that is playing," explains Giolito. 

Before they can perform stunts, they must put in a lot of time and practice. Cheerleaders and their coaches don't count their hours when it comes to practice,  and they always strive for perfection. They train multiple times a week for countless hours. All this effort is to ensure they have a great performance on Fridays, which, as they all know, are game days. Their schedule isn't merely for the varsity cheer team but for all cheer teams.

"On any given week, cheerleaders put in over 7 hours of work. That is Monday through Thursday schedule, and many other rival teams are known to practice as much as we do," explains Giolito. 

Learning the choreography takes some time, but thanks to Coach Jordan and the choreographer Karima, everything becomes easier. 

"Karima is our choreographer, and it takes us about 15 hours to learn a routine," Giolito tells.

During games, cheerleaders execute stunts every time we score. They are performed by groups of four, and they need to equilibrate height and weight so that no one falls. Who is going to be in each stunt group is Coach Jordan's decision. 

"At first it is hard to learn all of those movements but you realize that they actually are pretty similar so it gets easier with time," comments Giolito. 

Cheerleaders wear very specific and noticeable outfits: a mini skirt with a top and a bow. They also have pom-poms, and there are multiple factors that influence the decision of the outfit,  the weather, the type of stunts being completed, or if there is a special event like Breast Cancer Awareness Month.

"We have 2 different uniforms, one for comp and one for sideline. With the uniforms we also have warm-ups. Then we also have 3 other outfits which were used for our camp. Coach Jordan is the one who decides what we need to wear for each occasion," explains Giolito. "Our comp uniform is used when we have competitions or special events, and our sideline uniforms are for regular games. Our warm-ups are for the winter for when it is cold outside and we are required to be in uniform. And yes, every team does have different uniforms to show the different teams."

Video Courtesy of: Ava Giolito

 It is not always easy to keep up with such a long game without running into trouble. The stakes are high and can lead to injuries. The cheerleaders have to stay focused to make sure they don't forget the move of a dance or fail to perform a trick. They must not let themselves be distracted by the public and its cheers during a crucial moment since the cheerleaders turn their backs to the players so that the public can see them. They must also know how to manage stress by having all those eyes on them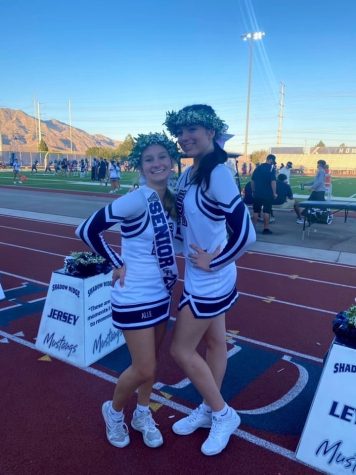 "The main challenge during the game, I think, is figuring out what is going on during the game while also doing our jobs on the sideline," says Giolito. 
Sometimes, cheerleaders are not available, or they are injured. That happens in every sport. And just like in every collective sport, they are substitutes to make sure that the show still goes on. They know how to react if someone missing and they are always prepared for that eventuality. 
"If someone is sick or injured, we will try to fill in for them with other people we have around or rearrange things to make it work. We have one alternate for our competition team and spotters, so if someone were to get hurt, we could try to work it out with another person. And if it still didn't work out, we would try to change the routine so it would. 
"But that is not the only thing that can go wrong. We can not predict what it's going to happen during a show, and accidents and falls happen," justifies Giolito.
Giolito stated, "If someone were to fall during the routine in a stunt, we would have to continue on from another place during the stunt after the fall, or stand there and pretend it didn't happen. We aren't allowed to redo it, so once we step on the mat we only have one chance to do it right."