What's Cooking in Culinary with Mrs.Gonzales?!
Many students around Shadow Ridge High School have either enrolled or heard about its culinary course through friends or even just from the little tray of food students will sometimes be walking around with. Though Shadow Ridge will miss Chef Rosales dearly they also give a big welcome to their new culinary teacher Mrs. Gonzales! 
Mrs. Gonzales has been in the culinary industry for a while now and has wanted to be in it since she was 14 years old working for her friend's dad. And with her passion for cooking driving her, she has graduated from the Art Institute Of Las Vegas and has experienced and cooked for many families privately and going abroad to others. Gonzalez taught at Le Cordon Bleu College from 2010-2017 in France and then here in Las Vegas for the last year substituting at NWCT. She has now landed at Shadow Ridge High School this year.
"
I love it, although it's been challenging, I've had fun and look forward to what the future looks like!"
— Mrs.Gonzales
"I was approached by the school, and having both my children graduate from Shadow, it was an easy YES! Go Mustangs!!" Says Mrs. Gonzales, "Now I am so happy I did. The students are awesome and keep me on my toes, it is so much fun to be present for that 'AH-HA' moment, and know that I helped them to get there."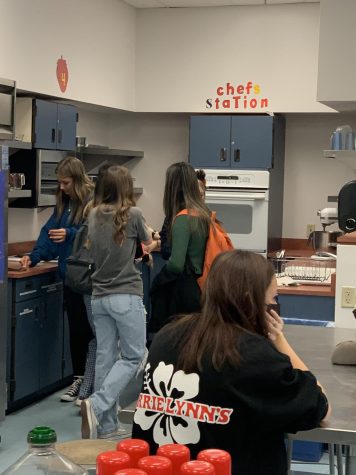 Mrs. Gonzales helps students get to those 'AH-HA' moments by having them learn the culinary foundations like basic knife skills, cooking techniques, and classical culinary giving them the skills they need to enter the culinary field if they so choose. Though just learning the skill in culinary arts is not all Mrs. Gonzales plans to teach and have her students experience but also learning leadership skills, self-confidence, culinary knowledge, and the love and passion for food and hospitality. And these skills have definitely been experienced and growing within her classes already!
"I'm looking forward to the curriculum in Culinary III the most." Says Mrs. Gonzales, "It's exciting to teach and learn about the food and culture from all around the world. I love giving back to young culinarians and watching their passion for food and the culinary industry, that's why to me Culinary I and II, are awesome as well because strong foundations are the key to success in the kitchen."
As Mrs. Gonzalez's classes have started to sprout in both learning and experiencing the culinary world, she has been able to get to know her students and develop lessons and a curriculum that is fun for the students as much as it is for her. And though it's challenging at times she's excited to see where the year will lead and what will happen.