Serving Someone "New" at Shadow Ridge
 This year, Shadow Ridge High School is welcoming a new English teacher, who is also the new freshmen volleyball coach. Rachel Chambers actually graduated from Shadow Ridge High School and is now an English 11 teacher at her alma mater. 
After four years of high school at Shadow Ridge, she graduated from UNLV last year.
She wanted to be a teacher because that was what made sense to her, and she chose to teach the 11 year program because she really liked it.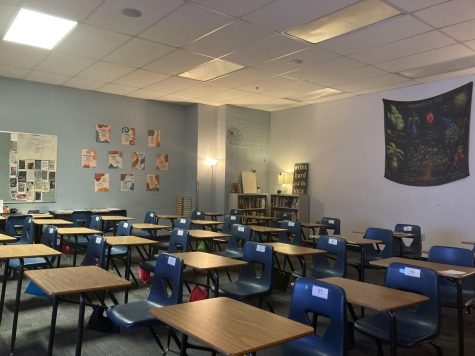 "The only thing that made sense to me when I graduated was education and coaching. I figured those two things went hand in hand," says Chambers. "I chose English because I enjoyed my eleventh grade year learning about Edgar Allen Poe and F. Scott Fitzgerald." 
Chambers wanted to teach at Shadow Ridge High School since it's the school she graduated from. She wanted to bring to the school as many things as the school brought to her. Teaching at her school also comes with a lot of advantages such as already knowing the campus, the staff, and how things work here. That also allows her to understand her students better because she has been through the same things only a few years ago. 
"I always said that I would come back to Shadow because I wanted to give back to the community that gave so much to me."
Her new and young perspective can bring a lot to this school and the people that it welcomes everyday. She knows how to bring some life to the classes and how to catch the students' attention. 
Chambers tells, "I think I can bring a youth perspective to Shadow and its students."
 Chambers is not only an English teacher, she is also the Women's Freshman Volleyball coach. She used to play for Shadow's team, during her four years of high school. It's like going back home for her.
"I played volleyball for Shadow Ridge from my freshman year to senior year of high school. I coach the freshman volleyball team," comments Chambers. 
"
I have a few hobbies that include playing volleyball, being on the lake, and hanging out with my family most weekends. My favorite book series is Harry Potter and I did not finish the series until I was a senior in high school.
— Ms. Chambers
It is her first year teaching the freshmen team  how to play. It is also their first year on the school's team since it's the freshmen team, so they are all learning together. Thankfully, it doesn't require any special degree. 
"It is my first year coaching and I do not need a special degree. I just needed to get certain certifications," justifies Chambers. 
Chambers coaches a team of girls, whom she will be able to see progress and grow throughout those years of high school. It reminds her of herself and her team in their first year of high school, a few years ago. 
"I like coaching because I can see the girls' growth and see their passion grow as well."
But coaching and teaching at the same time might not be easy to balance, especially when the coach and teacher is really involved in student's happiness and understanding of the lesson. 
"Coaching and teaching have been the hardest task because it is all a balancing act and I do not have it down."
But Chambers is positive and sure she will figure out everything. She really wants to make this year successful for herself and her students. Leading them to be the best version of themselves are the key words of this school year. 
"Personally, I have not set any new goals yet because I met the goal to come back to my high school and teach. A goal for my classroom is to track their progress and see growth. My goal for my team is for them to win their conference."
Students can always find Chambers in her room, 226, or on the volleyball court, smiling and ready to share her passion with any Shadow Ridge Students.