Kickin' It with Brynn Belcher
Shadow Ridge senior and varsity soccer star Brynn Belcher loves to take it to the fields day in and day out. Belcher plays soccer here at Shadow and also is playing club soccer for the Albion 05 GA soccer team. Belcher has played on the varsity team for two years with many impressive stats to show for it. With 18 games under her varsity belt, Belcher has scored 19 goals and 7 assists proving her impact on the pitch. 
Though Belcher's career has been impactful here at Shadow, it got its start many years ago. 
"I have played soccer for 11 years now, I started because my older sister played and I wanted to try it out since I was always at the field with her," says Belcher.
Her many years of experience and knowing the game have led her to a lot of success on both sides of the ball.
"She really is the most game changing player we have. Wherever she is on the field she is noticed and appreciated," says Shadow Ridge Soccer Coach Williams. 
Belcher is a threat on the field because of her two way unique nature. 
"I think that my ability to play on both sides of the ball makes me an unpredictable player which gives me the opportunities to score or help defend depending on the opponent, " says Belcher.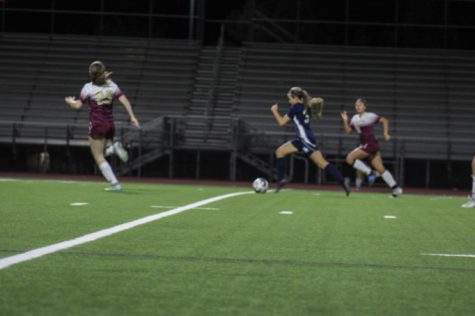 Soccer is a form of escape for Belcher. She finds joy in soccer and its community feel. 
"I love getting to see my closest friends every single day and I know once I get to the field, soccer is all I have to worry about for the next two hours," says Belcher. 
Almost all sports players get sidelined with injuries at some point and Belcher is no exception facing a concussion throughout her career. Injury has helped her develop into the person she is today. 
"As a person it tested my patience because I just wanted to get back to playing even if I knew I wasn't ready yet," says Belcher. "As a player it helped me become a better teammate by showing up to every practice and every game to still show support for my team." 
With many years already done, hopefully there are plenty more amazing games to see from Belcher.
"I will be going to college to continue my academic and athletic career, I am still undecided on where," Belcher adds.