McDonald's x CPFM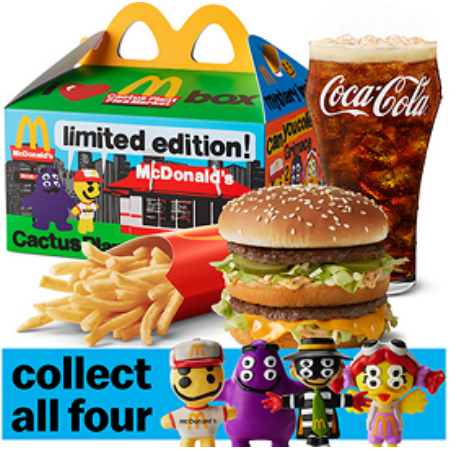 With McDonald's menu, there have been many new items that have come and gone. These many delectable meats and treats include donut sticks, Shamrock Shakes, and the infamous McRib. With the many promotions and limited time choices, there has never before been a rendition of the classic Happy Meal as a part of a collaboration with Cactus Plant Flea Market (CPFM), a small fashion company. The new Happy Meal, named the Cactus Plant Flea Market Box, is meant to bring nostalgia to all the customers enjoying it.
 The boxes came out on October 3rd to all participating McDonald locations, and are being sold for around $9.99 each, depending on the location. Customers can choose from the 10 piece Cactus Plant Flea Market Box or the Big Mac Cactus Plant Flea Market Box. Both come with medium french fries and a medium soft drink. 
The most nostalgic part, however, is the new McDonalds toys that come in the boxes. These new toys include Grimace, Hamburgler, Birdie or Cactus Plant Cactus Buddy. The Grimace, Hamburglar, and Birdie are all old toys that were used in Happy Meal in the 90s. The new Cactus Buddy is CPFM's mascot. Each toy is characterized by the double eyes and a squiggly smile. 
The box that the CPFM Box comes in is larger than the regular Happy Meal box. It depicts the toy characters visiting a McDonalds in the city. It also encourages customers to collect each of the new toys. 
As part of the new promotion, CPFM is also selling McDonald's themed apparel. Sophomore Lena Harris was surprised with this collaboration, and was not expecting a fast food chain to collaborate with a fashion company. 
"It's an interesting mix. I'm not sure I would have ever thought of putting those two brands together, but it doesn't look bad. I've never seen anything like these designs before, but I would consider buying them," Harris said.
Not only is it surprising on the clothing side of it, but it is also big news for the chain restaurants.  
"I'd be interested to see what kind of toys are in the boxes. I wonder if this means that McDonalds is going to be coming out with more toys for the regular Happy Meals too," Harris continued.
While there is no telling what McDonald's is planning, they will always be popular among students for their classics. 
Junior Emma Clement loves the direction McDonald's takes with their new and old recipes. 
Clement commented, "I love the Big Mac and the classic McDonald's french fries so I'm excited for anything McDonald's does. This new Happy Meal collaboration seems like such a fresh new thing and I'm excited to try it!"