Reshaping the Traditional Classroom
Taking on a new form of teaching, Shadow Ridge has a ceramics program that has touched each of its attendees in one way or another. This class, taught by former physics teacher Andrea Brackney, has taken on the literal meaning of a hands-on classroom in engaging students in work they can enjoy and put their creativity into.
"My dad always said you can do whatever you want and build whatever you want. It does not matter who you are. So I always carry that into the classroom because I say that to my students all the time. It does not matter who you are; you can do it," Brackney states.
"
I like ceramics because you get to make new things and it helps people express their feelings. My experience in ceramics has been a positive part of my time in high school."
— Cassandra Smith
Brackney went to college at Eastern Michigan University, earning a Bachelor's Degree in Science and taking an art minor alongside math and science minors. The love for art carried on from high school, flooded into her career, and created a building block for Brackney to continue off of.
Ceramics is open to all grades 9 through 12. Though a spot in the class as an incoming high schooler is not guaranteed, there is always a chance that there is room for more. Most beginning ceramics students continue the path to Ceramics III or Advanced Ceramics, where they get to work on more complex and detailed projects. 
"Do not give up. Just keep trying. It takes everyone a different amount of time to learn to do things. So do not be a quitter," expresses Brackney.
Though the work takes time and involves moments where thinking outside the box is necessary and following directions is vital, the outcome is worth it in the end when there is a product to show off the hard work committed to the class. 
"I wish I could run a ceramics class that is not graded because I feel like it is not as crunchy. I feel like kids would not make stuff if there were not grades. I feel like if I did not grade things, then people would not be as motivated," Brackney reveals. "I do not worry about advanced because I feel like if you are in advanced, it is because you enjoy it. However, for beginning students, I am just not sure I would get the same amount of completion from kids."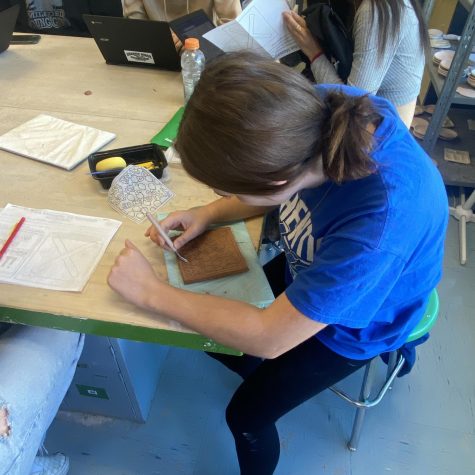 Perseverance has always been important to Advanced Ceramics student Megan Reynolds, a senior at the Ridge this year. She was drawn to the program based on her sisters' previous experiences in the class. 
"My favorite project so far has been learning wheel, and I just love the fun, relaxed environment of the class," Reynolds states. "Clay can be challenging because you always need to keep track of the moisture levels and ensure there are no air bubbles."
While ceramic work can be tedious and made out to be hard, it is all about trying  and never getting deterred. The ceramics studio creates a comforting and expressive environment based on its occupants and the instructor, who all put forth their best efforts to make it a great experience.