"To Rock a Rhyme, It's Tricky"
Boden Hardinger, junior, is well known at Shadow Ridge High School for his jokes and unique character. He is an involved student, participating in sports, Student Council events and activities, and Advanced Placement and Honors classes. Hardinger is also experimenting with music through SoundCloud to find a way to express himself.
Hardinger participated in men's volleyball as a freshman and, as a sophomore, he helped with managing the tennis team. Being a manager of the tennis team required him to show up to practices, court cleanups, and matches. He would practice alongside the tennis players and help to organize and keep track of the players on game days.
"I played tennis, I didn't really manage because I was just too baller at tennis. I was probably better than half the team. I liked playing tennis with my friends and being better at tennis than all of them," Hardinger says.
Even though school is taking place virtually this year, Hardinger still finds fun in school. He appreciates the breaks in between classes saying, "My favorite thing about online school is that I can play 'Fortnite' in between classes. You know I get a dub every time. My favorite class is English because I got my boys Randy and Walid in it."
Hardinger is musically inclined to rap music, but he also listens to rock music a little bit because he likes to play guitar.
He states, "I listen to a lot of hardcore gangster rap (100 Gecs, Death Grips). I can't really play rap music with the guitar so I started listening to rock music. I try not to listen to rock music as much because I know I'm a rapper at heart."
In order to share his music with others, Hardinger releases it on the music sharing website SoundCloud under the artist name "Obamanator."
"I started making songs on SoundCloud when I felt the injustices happening at school. The only way to release my anger and aggression was through rhythmical poetry. What really set me off is when I listened to 'Trapped in the Closet,' which is a masterpiece. The way he rapped and sang was just masterful and inspired me," Hardinger shares.
In his free time, Hardinger describes himself as always thinking about beats he could make and lyrics for new tracks. His separate Instagram account, that is dedicated solely to his musical pursuits, has over 300 followers who anxiously wait for new releases.
Describing his creative process for writing and producing songs, he tells, "I'm usually just playing around and making beats until I make one that I think is super good. Next comes the lyrics. I think of a topic based on what's on my mind the most. You know I'm better than all of those rappers out there, I'm 100 percent self-produced, no autotune, and playing epic guitar solos in my songs."
About the Writer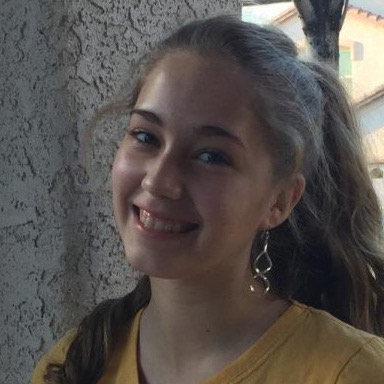 Abigail Davis, Campus Life Editor
Abigail is an avid reader who loves to write for the Lariat. Excited for her marketing class to pay off so quickly, Abigail has a fun time running the...