Pumpkin Paradise!
Starbucks finally released their fall menu August 30th after many fans waited all year for their beloved drinks and pastries to return. There is some controversy on this menu as some Starbucks' drinkers aren't too fond of their pumpkin-flavored beverages and treats, which is what they specialize in during these next few months. 
Sophomore Maya Garay says, "I think the Starbucks fall menu is great and it really gives the customers something to look forward to every fall."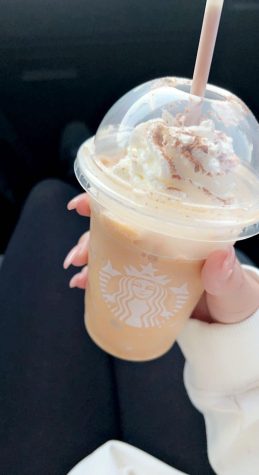 Many customers agree that the autumnal menu is a special addition to their fall experience despite the hate it receives. For some, these pumpkin infused drinks are a delicacy of flavor. Consumers tend to mix together their favorite tastes to make new creations. Starbucks official Instagram announces this menu annually, even leaking it early this year because fans were practically begging for it. It includes all of their annual goodies and tends to get a lot of views, especially when they release something new for customers to try. 
Junior Aliandra Rizo shares, "I was so excited for the fall menu to come out because the drinks are always so perfect and cozy. My favorite beverage from this season's menu was the Caramel Apple Spice, and my favorite pastry is definitely the Pumpkin Bread."
This fall, Starbucks released the Pumpkin Cream Nitro Cold Brew, Salted Caramel Mocha Flavored Coffee Beans, Apple Crisp Oatmilk Macchiato, and the Owl Cake Pop. Even with these new releases, Starbucks' PSL (Pumpkin Spice Latte) has been the most popular drink for over a decade and still remains a fan favorite. 
"
I never want the fall menu to end, I love it so much.
— Maya Garay
Rizo continues, "I love the fall menu, especially all the drinks that smell like you'd find them in a candle store. Along with this, I love pumpkin flavored everything, I don't care how many people hate it, I'll always think it's the best."
Starbucks' is the most popular coffee shop in the world, so it gets a lot of recognition not only on Instagram, but also on TikTok and other social media platforms. Recently, TikTokers have really been enjoying the venti iced PSL with extra pumps of white mocha and pumpkin cold foam. It was very popular last year and definitely made a strong return. The menu contains many different types of coffee, teas, chais, and other beverages that can be mixed with a variety of foams, syrups, and drizzles. The menu is basically endless and Starbucks workers tend to be creative and will even tell customers their personal favorites.
Additionally, fans spread hashtags and drink ideas to inspire other people and introduce them to the diversity of complex flavors that they can get before the menu is replaced in November for wintertime.